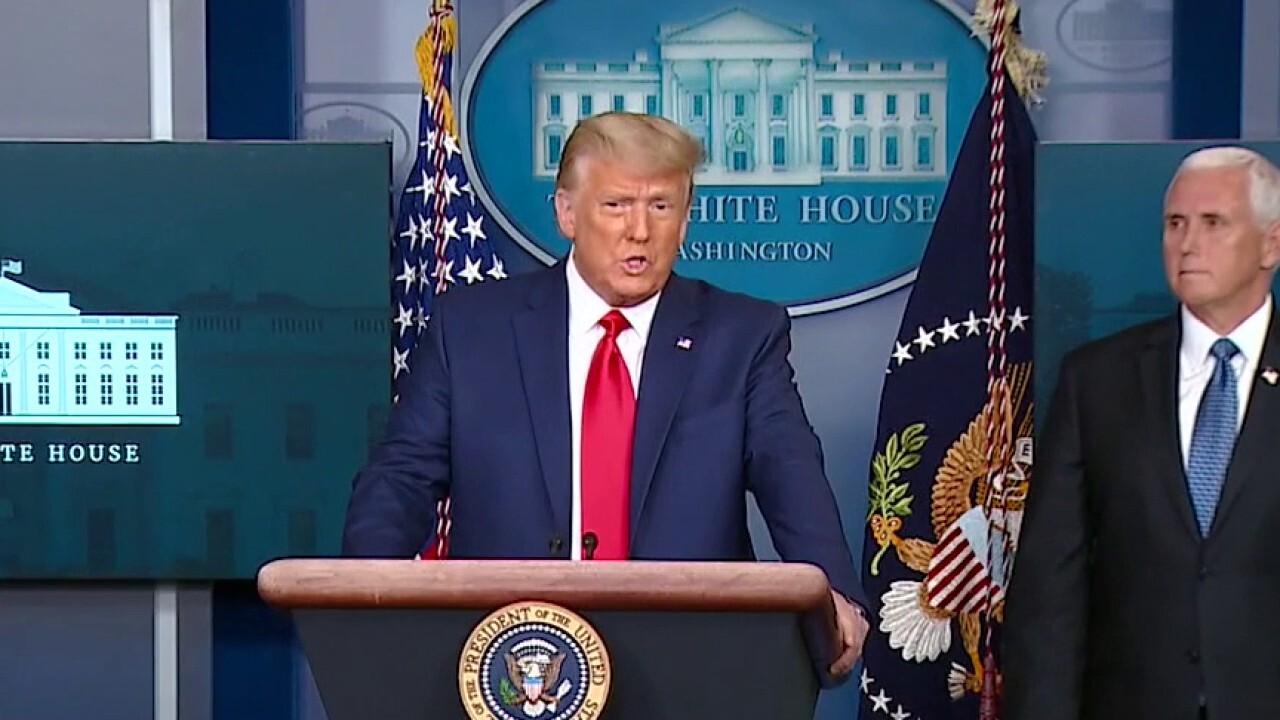 Pennsylvania judge halts election certification amid mail-in vote fight:
Lawsuit alleges that Pennsylvania's mail-in voting law violated the state's constitution
A Pennsylvania state court issued an injunction Wednesday blocking any potential further certification of election results in the state, pending a hearing to be held Friday.
The order from Judge Patricia McCullough comes in the case brought by Pennsylvania voters including Rep. Mike Kelly, R-Pa., in which they allege that a state law allowing for no-excuse absentee voting violated the Pennsylvania constitution, which outlines specific cases where absentee voting is allowed.
"[T]o the extent that there remains any further action to perfect the certification of the results of the 2020 General Election … for the office of President and Vice President of the United States of America, Respondents are preliminarily enjoined from doing so, pending an evidentiary hearing[,]'" McCullough wrote.
Pennsylvania Attorney General Josh Shapiro quickly responded on Twitter, pointing out that this does not have much impact since the results of the presidential election have already been certified and electors chosen. --->READ MORE HERE
You Want Evidence of Voter Fraud? The Trump Campaign Will Present it in Court Next Week:
This week, a judge granted the Trump campaign an opportunity to present evidence of alleged widespread voter fraud in Nevada. The campaign will get the opportunity to present 15 depositions at a Nov. 3 hearing to make its case.
"BIG news in Nevada: a Judge has allowed NV Republicans to present findings of widespread voter fraud in a Dec. 3rd hearing," White House Chief of Staff Mark Meadows announced on Twitter Tuesday night. "Americans will now hear evidence from those who saw firsthand what happened—a critical step for transparency and remedying illegal ballots. Stay tuned."
Trump officials told The Washington Examiner that the judge is allowing 15 depositions. The campaign plans to present evidence that could result in the rejection of tens of thousands of mail-in ballots in Democratic Clark County where Joe Biden ballots outnumbered Trump ballots by 91,000 in unofficial results. According to preliminary results, Biden won 703,486 votes to Trump's 669,890 votes, roughly a 34,000-vote spread.
"It gives us a real chance, if to do nothing else, to begin to show this historic level of fraud," Matt Schlapp, chairman of the American Conservative Union and one of those leading the Nevada case, told the Examiner. "Our filing said we have over 15 individuals and tens of thousands more from mail-in fraud. We have enough to switch the outcome." --->READ MORE HERE
Follow links below to related stories:
Trump testifies by phone at state GOP election-fraud hearing in Pennsylvania
Giuliani, Trump Pull Off 'One Hell Of A Hearing' On Pennsylvania Election Fraud
NEW LAWSUIT Filed in State of Georgia By Trump Legal Team! — Separate from Sidney Powell — AFFECTS THOUSANDS OF ILLEGAL VOTES
Amistad Project files lawsuit disputing Georgia presidential election result
Giuliani Seeks Special Relief to Appear at 3rd Circuit, Claiming Problems in NY
Wisconsin recount live: Milwaukee County to finish Friday, Dane County further behind
Sidney Powell demands Georgia Zoom meeting where officials refused 'real audit'
Trump says 'patriots' are detailing election issues in Pennsylvania
If you like what you see, please "Like" us on Facebook either
here
or
here
. Please follow us on Twitter
here
.