BLM Protester Screams 'I am Here to Ruin Dinners, Ruin Happy Hours'
A Black Lives Matter protest leader challenged followers to invade restaurants and bars to "ruin dinners" and "ruin happy hours." The tactic has been seen in action in restaurants and bars across the country.
"We are here to cause disruption," the woman leading a BLM protest in Seattle yelled. "I'm here to ruin dinners, to ruin happy hours, and everything about Black liberation and Indigenous liberation."
Another video shows a woman standing in the street outside a restaurant screaming at the customers trying to enjoy a Friday-night meal. --->THERE ALL HERE AND MORE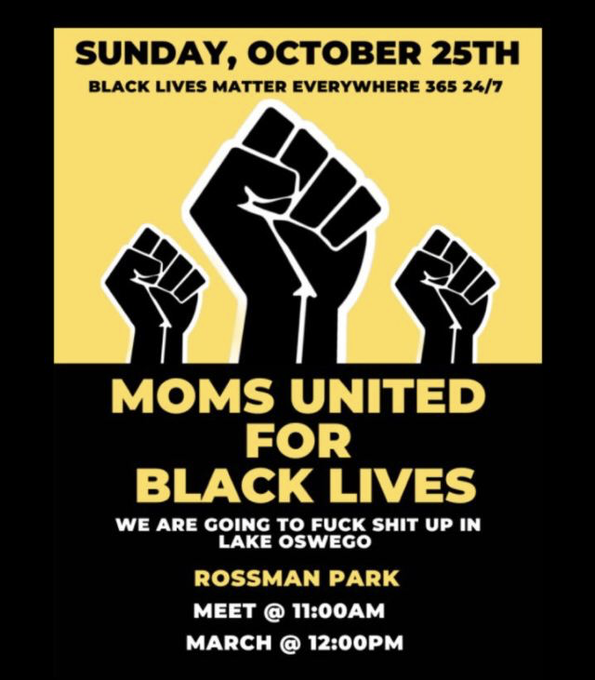 BLM Invades Affluent Portland Suburb, Demand Allegiance From Shoppers And Diners:
BLM is back at it again - changing hearts and minds by marching into suburban Lake Oswego, Oregon - approximately eight miles south of Portland - to demand allegiance from shoppers and diners who will now surely vote for Joe 'Racial Jungle' Biden after recognizing their inner bigots.
According to SkyBluePortland.com, Breitbart and The Oregonian, the wealthy Portland suburb surrounding the 405-acre Oswego Lake was targeted by BLM, which distributed flyers promising to "fuck shit up" on Sunday.
According to The Oregonian, protest organizer Demetria Hester said "The march was about showing Lake Oswego residents that Black lives matter all the time, and about making racists uncomfortable." --->LOTS MORE HERE INCLUDING VIDEOS
Follow links below for more Peaceful Mayhem:
STREET CHAOS 'Philadelphia church burned' as rioters throw fireworks at cops in BLM protests over Walter Wallace Jr's death
Riots rock Washington, DC after Black Lives Matter protests
Horowitz: Minnesota trucker beaten by Black Lives Matter mob on I-35 charged with crimes, but not his attackers
BLM Activist Faces Hate Crime Charges for Knocking Out the Teeth of a Black Conservative
Yes, a Pro-China Group in America Supports a Black Lives Matter Founder
MSNBC's Joy Reid: Black Lives Matter Never Advocated For Violence
If you like what you see, please "Like" us on Facebook either
here
or
here
. Please follow us on Twitter
here
.