Trump to hold 14 rallies in final three days of campaign:
President Trump will hold 14 rallies in the three days before Election Day, focusing a final blitz of appearances on Pennsylvania and the Midwest.
The Trump campaign on Friday announced the president's schedule through Nov. 2, and the president teased that he may travel on Election Day itself. Trump trails Democratic nominee Joe Biden in several swing states, though he maintains a path to the 270 electoral votes needed to win the presidency.
In a nod to the importance of winning Pennsylvania in order to secure a second term, Trump will hold four rallies in the Keystone State on Saturday.
The president will then hold five rallies on Sunday, all in states he won in 2016 but where he is now on defense against Biden: Michigan, Iowa, North Carolina, Georgia and Florida.
Trump will hold five more rallies on Monday on the eve of Election Day. He will stop in North Carolina, Pennsylvania and Wisconsin, along with two events in Michigan. His final event will be in Grand Rapids, Mich., the same city where he held his final rally of the 2016 campaign. --->READ MORE HERE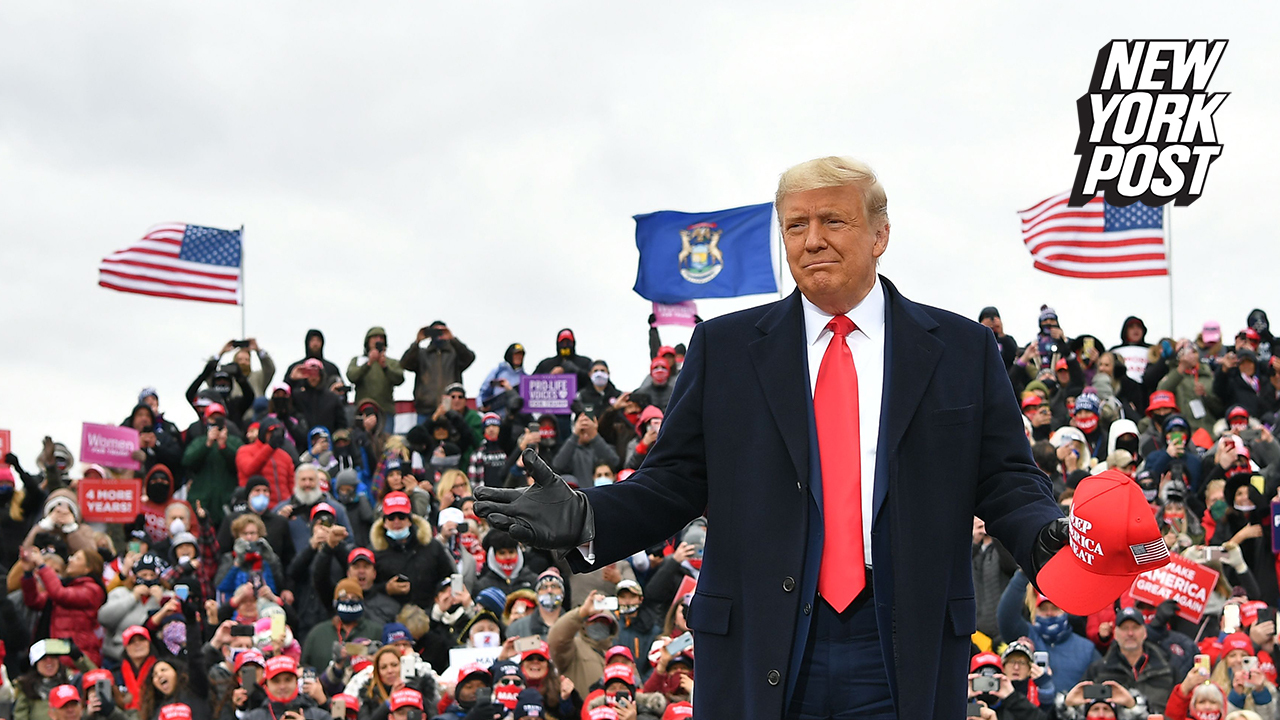 Trump rips Biden as 'diehard globalist' in Midwest rallies:
President Trump on Friday slammed Democratic challenger Joe Biden as a "diehard globalist" during Midwest campaign stops, pinning trade policies that caused outsourcing on the 36-year senator.
"He destroyed your industry, but I brought it back," Trump said during a rally in the Detroit suburb of Waterford Township, Michigan. "At every turn, Biden twisted the knife into the back of Michigan workers and workers all over the country."
The president gave a similar closing pitch in Wisconsin four days before the Nov. 3 election.
"Joe Biden has spent the last 47 years outsourcing your jobs, opening your borders and sacrificing American blood and treasure in endless foreign wars," Trump told a large rally in Green Bay.
Trump in 2016 narrowly won Michigan, Wisconsin and Pennsylvania —three traditionally Democratic Rust Belt states — and most predictive models say he must win at least one to secure a second term. --->READ MORE HERE
Follow links below to related stories:
Trump says Minnesota capped rallies at 250 people because Biden 'can't draw flies'
Trump in WI: 'Hidden' voters will deliver 2nd term
Trump warns Michigan voters that Biden's energy plan would ruin the state's economy
Trump may spend election night at the White House
If you like what you see, please "Like" us on Facebook either
here
or
here
. Please follow us on Twitter
here
.