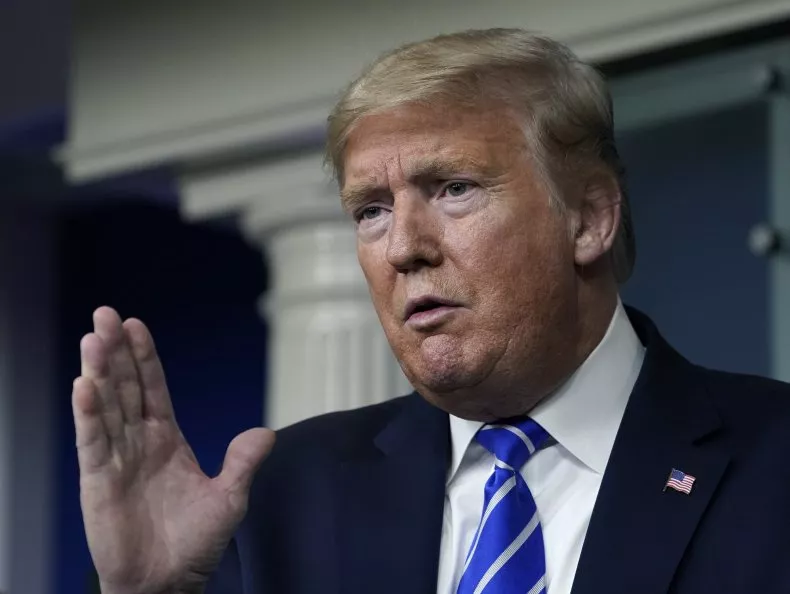 Drew Angerer/Getty
President Donald Trump said his administration may extend the guidelines for social distancing past spring and into early summer at Thursday's coronavirus task force meeting from the White House. In March, Trump said the guidelines would be in place until April 30.
In recent days, governors across the U.S. have started planning for the reopening of businesses in their states through phased approaches that feature social distancing protocols as a criterion for getting employees bak to work. Although recent data has indicated that coronavirus cases could decline during the summer, Trump said the guidelines would continue "until we feel it's safe."
"We'll have to see where [coronavirus] is," the president said. "I think people are going to know. You're going to know. I'm going to know. I think people are going to know just out of common sense. At some point we won't have to do that. But until we feel it's safe we're going to be extending."
Trump's remarks came after a presentation from Bill Bryan, head of the science and technology directorate at the Department of Homeland Security. Bryan said that sunlight could potentially kill the virus in seconds, but rejected the idea that warm weather would completely stop coronavirus. It's "irresponsible" to suggest such a thing, he said, adding that summer does not mean "a free for all."
"I would not go contrary to the guidance that has been issued right now," Bryan continued. "I think though to tell you if I'm having an event with my family, I'm doing it in the driveway or the back yard, not inside the house."
Read the rest of the story
HERE
and follow links below to related stories and resources:
USA TODAY: Coronavirus live updates: Sample of New Yorkers showed 14% positive; House passes $484B stimulus package; Trump pushes study
WSJ: Coronavirus Updates: Giving Back Stimulus Loans; Intel's Work-at-Home Boost
YAHOO NEWS: Coronavirus live updates: Elizabeth Warren's brother dies from COVID-19 complications
NEW YORK POST: Today's coronavirus update: Unemployment soars, virus not transmitted through sex
If you like what you see, please "Like" us on Facebook either
here
or
here
. Please follow us on Twitter
here
.