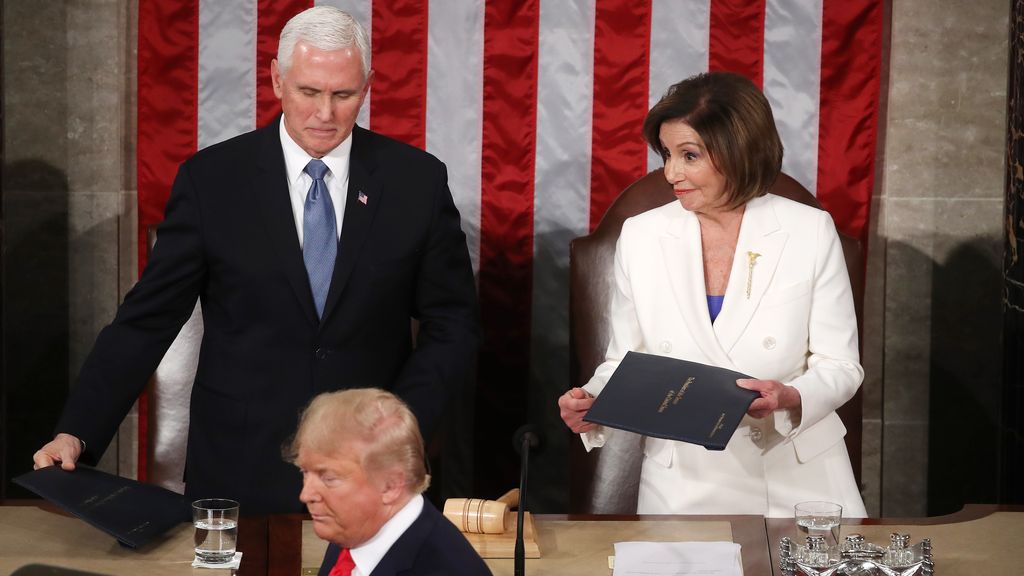 Show-Stopping Surprises in State of the Union
A former reality show star, President Trump inserted a number of surprises throughout the night.
First he announced a scholarship for a girl from Philadelphia that he said was not able to attend the school of her choice, declaring "you will soon be heading to the school of your choice!"
Then he awarded the Presidential Medal of Freedom to conservative talk radio host Rush Limbaugh, who is receiving treatment for advanced lung cancer.
Mr. Trump thanked the radio icon for "decades of tireless devotion to our country," and asked First Lady Melania Trump to give him the honor at that moment. Mrs. Trump then gave the medal to a visibly emotional Mr. Limbaugh.
And at toward the end of his remarks, Mr. Trump surprised the family of a deployed service member, Sgt. First Class Townsend Williams, by announcing that the sergeant was there in the chamber, home from deployment.
"We have a very special surprise," Mr. Trump said.
Amy Williams from Fort Bragg, N.C., covered her mouth in shock as a murmur rippled through the crowd and her husband, in dress uniform, walked down the stairs to where she sat in the front row of the First Family's box.
Tensions With Democrats on Full Display
While President Trump sought to strike a unifying tone, the tensions with Democrats after the rancorous impeachment process were on full display.
Ahead of his remarks, Democratic House Speaker Nancy Pelosi appeared to reach out her hand to the president, who did not shake it. At the conclusion of his address, Mrs. Pelosi stood behind the president and ripped up the remarks.
The political division was also clear throughout the room. When the president's entrance was announced, loud cheering and whistles broke out on the Republian side of the aisle, while many Democrats stood quietly, not clapping. Republicans then started chanting, "Four More Years," clapping in unison.
During the remarks, when Mr. Trump said, "The state of our union is stronger than ever before," Republicans again rose to their feet and cheered, while Democrats sat still.
Three Democratic senators who are vying for the Democratic presidential nomination — Elizabeth Warren of Massachusetts, Bernie Sanders of Vermont, and Amy Klobuchar of Minnesota — weren't in the House chamber for the State of the Union. Sen. Michael Bennet of Colorado, who also is running in the Democratic presidential primary, was in attendance.
Lots more
HERE
and follow links below to other sources:
USA TODAY: Nancy Pelosi rips up Trump's speech and other top moments from the 2020 State of the Union address
AXIOS: Key takeaways from Trump's State of the Union address
If you like what you see, please "Like" us on Facebook either
here
or
here
. Please follow us on Twitter
here
.