President Donald Trump's new immigration judges are far more likely to reject migrants' requests for asylum than are the judges prior presidents picked.
Four Trump immigration judges in Memphis, Tennessee, denied more than 90 percent of claims from migrants, while the prior judges granted roughly half of the requests, according to a study by immigration lawyer Lily Axelrod.
There are 465 immigration judges, some of whom stay on the bench for decades. But Trump's pro-American policies are frustrating judges who were appointed by former President Barack Obama, prompting some to leave and open new slots for Trump-appointed judges. In 2019, 45 judges quit, compared to 24 judges who retired in 2018.
"For 24 years, [Judge Lisa Dornell] sat on the bench in Baltimore's immigration court, hearing hundreds of cases of immigrants trying to stay in the United States," CNN reported on December 27. "It was a privilege to be able to preside over so many different cases and be able to grant relief to people who needed relief," Dornell told CNN in an interview about the rising number of retiring judges. The article added: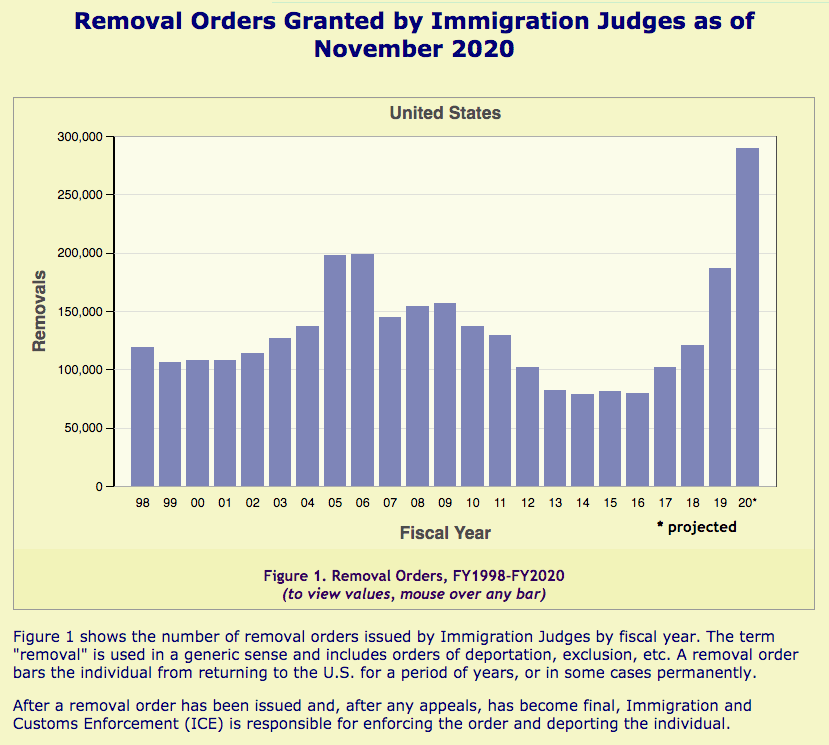 CLICK CHART to ENLARGE
[Ilyce] Shugall recalled the challenges she had faced in trying to move forward with cases in a way she thought was appropriate. "I felt like as more and more policies were coming down, it was making it harder and harder to effectively hear cases in the way that I felt was appropriate and in compliance with the statute regulations and Constitution," Shugall said.
According to TRAC Reports Inc, "Judge Dornell is recorded as deciding 921 asylum claims on their merits. Of these, she granted 456 … and denied 464."
The new judges are picked by Trump's attorney general and cannot be blocked by hostile Democrats. So their gradual arrival is likely to have a dramatic effect as the number of pro-migrant judges decline.
Read the rest of story
HERE
.
If you like what you see, please "Like" us on Facebook either
here
or
here
. Please follow us on Twitter
here
.