Congress just appropriated record sums of cash in the omnibus bill to fund "election security" for the state ballot systems. Democrat senators like Pat Leahy lauded the bill for "preserving our democracy, and maintaining full faith in our elections." Yet as Congress worries over foreign interference in our elections, blue states are implementing policies that will ensure foreigners vote in our elections, whose outcomes often hinge on razor-thin margins of victory.
A number of blue states, including Illinois, have adopted policies to automatically register those with valid state driver's licenses to vote in elections. The threat of noncitizens voting in elections under such a system has always been a clear concern, absent an ironclad system to weed out those with noncitizen driver's licenses from the registration list. Well, this concern has become reality in Illinois, where the state's board of elections now admits 545 noncitizens were registered to vote, just among those who self-reported as such by checking the noncitizen box on the driver's license application.
"For whatever reason that technological programming error did not properly remove the individuals," secretary of state spokesman Henry Haupt explained, reports WCIA news. "The individuals who are applying for driver's license were inadvertently pooled into the automatic voter registration."
But in blue states, with an increased desire to grant not just legal immigrants but illegal immigrants driver's licenses, coupled with the push for automatic voter registrations, is this really a bug or a feature of the desired outcome? What prudent public official would push for a policy that sweeps up so many non-eligible people to automatically vote and then relies on programming to weed out those who don't belong? That sure sounds like playing with fire, assuming they really seek to avoid registering noncitizens.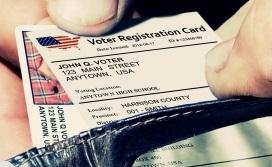 "If states like Illinois and others are foolish enough to install automatic voter registration, we can't trust them to stress-test their new systems for features like registering noncitizens to vote," said Logan Churchwell of the Public Interest Legal Foundation, the leading nonprofit group pushing for clean voter rolls. "Automatic voter registration, at its core, minimizes voters to lines of code sloppily swapped between databases. Said databases are too often built by lowest-bidding vendors with little to no understanding of voter registration laws on the shortest of deadlines. If Illinois has any decency, it will issue letters stating that their errors put noncitizens on potential paths to deportation — especially if incumbent politicians sent them mail instructing how to vote."
Read the rest from Daniel Horowitz
HERE
.
If you like what you see, please "Like" us on Facebook either
here
or
here
. Please follow us on Twitter
here
.