Senators resumed asking questions of President Donald Trump's defense and House prosecutors Thursday, marking the last chance for lawmakers to inquire about the president's impeachment before moving to a vote on witnesses.
Here are the most noteworthy moments from the ninth day of the trial
> Sekulow gets blowback for calling out three Democrats
> Schiff proposes limiting witness testimony to one week
> Democrats seek to undermine Trump acquittal
> Conservative group runs ad pressing Romney to reject witnesses
> Crow hammers Dershowitz over presidential powers argument
Biden argued against witnesses in 1999 impeachment trial memo
In January 1999, then-Sen. Joe Biden argued strongly against the need to depose additional witnesses or seek new evidence in a memo sent to fellow Democrats ahead of President Bill Clinton's impeachment trial.
Biden circulated the four-page document, titled "Arguments in Support of a Summary Impeachment Trial," on Jan. 5, 1999. In his memo, obtained by POLITICO, Biden cited historical precedents from impeachment cases going back to the establishment of the Senate and asserted "The Senate need not hold a 'full-blown' trial.
Thune anticipates Democrats 'try to drag it out'
Sen. John Thune (R-S.D.) said that Republicans are aiming to acquit President Donald Trump as early as possible on Friday afternoon but could be forced to delay until Saturday amid a barrage of Democratic procedural votes.
The Senate's No. 2 Republican, speaking Thursday night, said he is anticipating several hours of Democratic amendment votes on the floor on Friday — even if Republicans vote down an attempt to summon witnesses like former national security adviser John Bolton.
"As always, 51 votes win, but I suspect the Democrats, if they want to, can engage in any number of dilatory tactics to try to drag it out," Thune said. "Maybe if their folks are anxious to get this in be rearview mirror, then it goes faster rather than slower."
Thune added that the Senate is likely to make a key change from the Clinton impeachment — allowing each senator to explain their position on the floor, rather than a closed-door deliberation.
The plan, Thune said, is to allow the Senate to formally end the trial and then allow lawmakers to make speeches on their own.
"A lot of people want to go on the record with their vote, and talk about it," Thune said. "In the Clinton impeachment, that was done behind closed doors. And I don't think anybody wants to see that happen this time."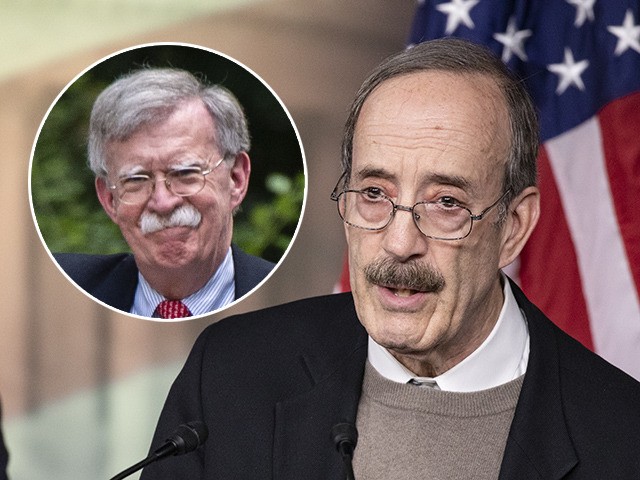 Engel explains why he released details of Bolton call
House Foreign Affairs Committee Chairman Eliot Engel said he decided this week to release details of a Sept. 23 phone call with John Bolton only after President Donald Trump questioned Bolton's reported version of events surrounding Trump's decision to freeze military aid to Ukraine.
Engel surprised the Senate and even some House colleagues when he publicly disclosed for the first time the four-month-old conversation with Bolton, in which the former national security adviser urged him to follow up on the case of Marie Yovanovitch, the U.S. ambassador to Ukraine ousted by Trump last spring.
House Democrats accused Trump of orchestrating a smear campaign to justify her removal because she was an obstacle to his effort to convince the Ukrainian government to investigate former Vice President Joe Biden.
Engel said Thursday that he never intended to release details of his talk with Bolton because he considered them private, but he felt compelled to after Trump questioned reports that Bolton planned to say Trump linked a hold in Ukrainian military assistance to his desired Biden investigation.
"He mentioned the ambassador and he said follow her and watch what happened with her," Engel recalled, adding, "Basically, if you're following her you'll be able to figure out some things."
Engel said he hasn't spoken to Bolton since that call but still hopes to arrange a debriefing with him after the Senate's impeachment trial concludes. He said he couldn't say when he first informed Speaker Nancy Pelosi of his call with Bolton, adding that he didn't find it significant at the time.
There's LOTS MORE
HERE
and follow links below to other sources:
WSJ: Trump's Impeachment Trial—Live Analysis
AXIOS: Live updates: Senators continue their questions
USA TODAY: The Senate impeachment session for Thursday
If you like what you see, please "Like" us on Facebook either
here
or
here
. Please follow us on Twitter
here
.