Illegal immigration this year is expected to hit the highest level in a decade, reaching numbers that the United States has not seen since President George W. Bush.
In December 2018, the last month for illegal border crossing totals, there were close to 51,000 border crossings at the U.S.-Mexico border, a level that outpaced Princeton Policy researcher Steven Kopits' monthly projection by about 3.5 percent.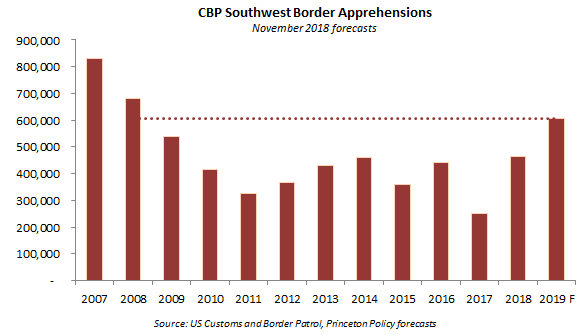 CLICK GRAPH to ENLARGE
The month before, there were nearly 52,000 border crossings. Based on the latest available data, Kopits projects there to be about 606,000 crossings this year at the U.S.-Mexico border, a level of illegal immigration that surpasses nearly every year of illegal immigration under President Obama.
"The migrants are coming, through the official entry points or away from them, but they are coming, and coming in quantity," Kopits wrote in his monthly projection report.
Read the rest of the story
HERE
.
If you like what you see, please "Like" us on Facebook either
here
or
here
. Please follow us on Twitter
here
.