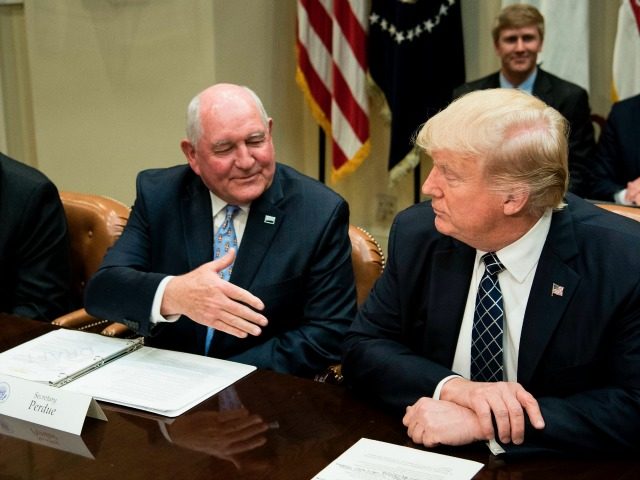 Many farmers are replacing migrant laborers with high-tech, high-wage productivity improvements, but President Donald Trump's new agriculture secretary is reportedly lobbying to boost the food industry's supply of cheap-labor illegal migrants.
Agriculture Secretary Sonny Perdue told an audience on Friday that he's pressing Trump to allow farmers and food processors to keep employing cheap illegal-alien manual labor. Trump "understands that there are … undocumented immigrant laborers, out here on the farms, many of them that are doing a great job, contributing to the economy of the United States," Perdue said April 28, according to a report in Harvest Public Media.
Sending the illegal-immigrant workers home "is not his focus nor will that be my focus," Perdue added.
Breitbart has asked the department's press office for clarification of Perdue's comments.
Perdue has also used his authority as the new agriculture secretary to bring in a labor lawyer from the industry's trade association, the American Farm Bureau Federation, according to Harvest Public Media. Perdue continued:
I'm hoping she can provide the president and his administration a blueprint and a program of how we can separate and divide and understand who are the [illegal] immigrants that are contributing to American society and contributing [to] putting … that food on the table and the fiber that we need for clothes.
Read the rest of the story
HERE
and follow links to related stories below:
Trump Admin Quietly Gives Illegal Immigrants Work Permit Extensions
Agriculture Secretary Says Trump Won't Focus On Deporting Illegal Farm Workers
If you like what you see, please "Like" us on Facebook either
here
or
here
. Please follow us on Twitter
here
.