President Donald Trump has agreed to adhere to the longstanding one-China policy, despite his previous statements.
Trump called Chinese President Xi Jinping late Thursday night to discuss the bilateral relationship. During the "lengthy conversation," Trump "agreed, at the request of President Xi, to honor our 'One China' policy," an official White House statement revealed.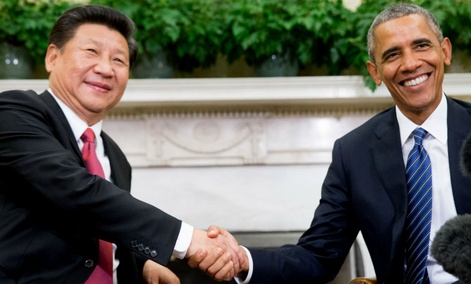 Barry went along to get along as well. I wish I could say
President Trump is in good company with this,
BUT HE'S NOT.
Chinese media reports that Xi appreciated Trump's decision to uphold the one-China policy, which states that there is only one China represented by the People's Republic of China. The Chinese government perceives the "one-China" policy as a "prerequisite for the development of relations between China and the rest of the world."
Trump rattled Beijing in early December by breaking with decades of diplomatic practice and protocol and accepting a phone call from Taiwanese President Tsai Ing-wen.
Read the rest of the story
HERE
and follow a link to a related story below:
Did Trump embolden China by caving on their "One China" policy?
If you like what you see, please "Like" us on Facebook either
here
or
here
. Please follow us on Twitter
here
.