GOP candidate makes first visit to San Diego as Golden State's role in primary grows
Sen. Ted Cruz is making a sweep through Orange and San Diego counties Monday, two regions that have recently turned more blue as their populations have become more diverse, but have historically bankrolled Republican candidates.
Monday evening is Cruz's first rally in San Diego as a presidential candidate, and comes six days after he won big over Donald Trump in Wisconsin and collected all 34 of Colorado's delegates over the weekend.
"We anticipated early on that this primary could easily come down to the state of California, and that in fact is what has happened," Cruz told the Los Angeles Times as he made a stop in Irvine. "For the first time in decades, the people of California will be in a position to decide the Republican nomination for president."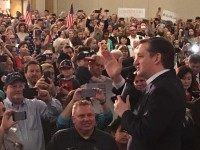 There were nearly 100 people at 4 p.m. in line outside the Town & Country Resort and Convention Center, where Cruz was to appear two hours later.
Earnest Healy, 55, of Escondido, was near the front of the line and said he had been a supporter of Cruz since the start of the primary.
"He takes the road less traveled. He is a little more forceful in trying to get things done," he said. "He calls it as it is."
Read the rest of the story
HERE
.
If you like what you see, please "Like" us on Facebook either
here
or
here
. Please follow us on Twitter
here
.