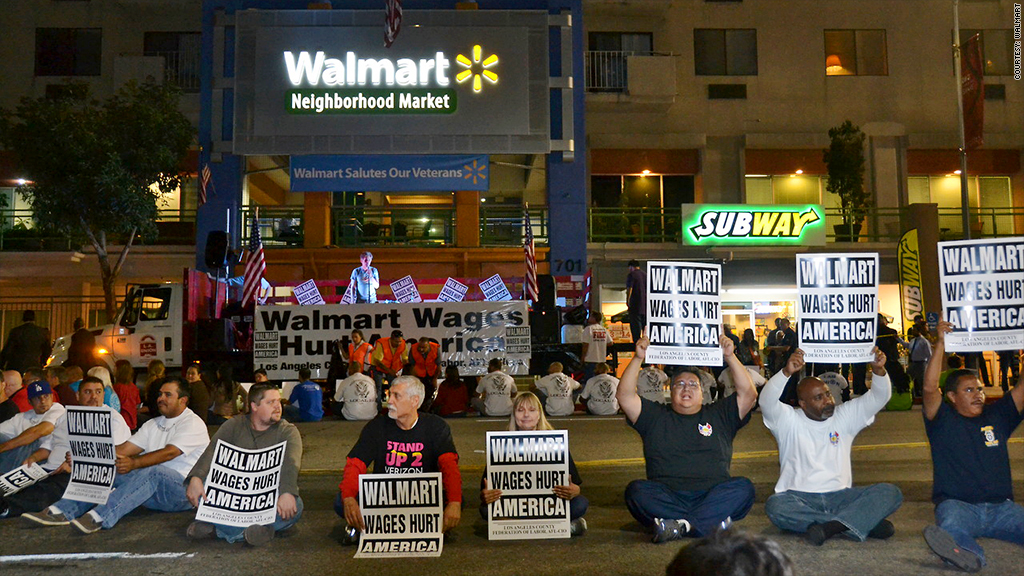 Most signs read, 'Walmart Wages Hurt America'. I guess
now one good say, NO WAGES hurt more!
Wal-Mart's closure of 154 U.S. stores "to keep the company strong and positioned for the future" sends a not-so-subtle warning: It may not have a future in cities that adopt high minimum wages.
Separate out the closing of all 102 Wal-Mart Express convenience-size stores in a failed pilot project and seven others in crisis-stricken Puerto Rico. Apart from those, the closing of 45 Wal-Mart stores among about 5,200 nationwide, less than 1%, was akin to the most minor of surgical procedures.
It can't be a coincidence, therefore, that Wal-Mart's scalpel targeted stores in places that have among the highest minimum wages in the country.
Oakland, L.A. Lose Their Wal-Marts
Oakland, whose $12.55-an-hour minimum wage is currently second to none, lost its one and only Wal-Mart.
Los Angeles, which in June approved a gradual hike in the minimum wage to $15 an hour, lost its two Wal-Marts. One of them had opened in Chinatown in 2013, providing residents there a full-service grocery store after decades of trying to attract one.
Los Angeles County, which followed the city's lead in setting a path to a $15 minimum wage, lost a Wal-Mart that opened in 2013 in Altadena, an unincorporated part of the county where the wage hike will apply.
Washington, D.C., which invited Wal-Mart to open up three stores in better-off parts of the city in return for the retailer's commitment to open up two stores in poorer sections, found out Friday that those latter two Wal-Mart projects are dead.
Read the rest of the story
HERE
.
If you like what you see, please "Like" us on Facebook either
here
or
here
. Please follow us on Twitter
here
.