General al-sisi Kisses the head of the mother of an officer
killed in the line of duty.
Field Marshal Abdul-Fattah el-Sissi, the military leader who removed Egypt's first freely elected president last year, took the first formal steps on Monday to become president himself, setting the stage for a return of the military-backed government that had appeared to end three years ago.
Sissi, currently defense minister, told a meeting of his top generals on Monday that "the trust of the people is a call that demands compliance" and that seeking the presidency was now "the call of duty," according to a statement by the military.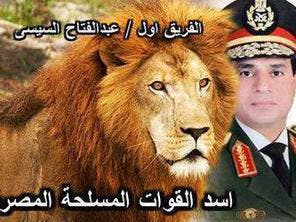 The caption reads: "Sisi is the lion of Egypt's
armed forces." (Photo courtesy: Facebook)
The generals, who make up the Supreme Council of the Armed Forces, authorized him to run for president, state television reported. Sissi has yet to formally announce his plans; the election is expected to be held by the end of April.
Sissi, who was promoted to field marshal — the military's top rank — on Monday, now appears likely to become Egypt's sixth president, its fifth from the ranks of the military.
Although two other candidates from the 2012 presidential elections, the leftist Hamdeen Sabahi and the moderate Islamist Abdel-Moneim Aboul Fotouh, have left open the possibility of running again, Sissi is expected to win easily, in part because the government he installed last year has crushed its most potent opponents, the Muslim Brotherhood.
[...]
Allegedly this boy saluting late President Nasser
was general Abdel Fatah El Sissi
His deftly choreographed performance as the national hero who saved Egypt from despair and division after the vexed one-year rule of Morsi has endowed him with an extraordinary personal popularity, not seen since the 1950s when Colonel Gamal Abdel Nasser ended the British-backed monarchy.
Earlier this month, when the military put a revised constitution up for a popular vote that was seen as a referendum on Sissi's leadership, more than 98 percent of the ballots cast were in favor...
Read the full story
HERE
.
If you like what you see, please "Like" us on Facebook either
here
or
here
. Please follow us on Twitter
here
.