At least 40 Churches across Egypt have been burnt and destroyed
by Muslim Brotherhood and their supporters:
..reports coming out of the country say 64 churches and institutions, including many belonging to the Coptic Catholic Church, were attacked in one day by Islamist mobs opposed to the current government. The website "Protect the Pope" has the full list here.
Fr. Rafiq Greiche, spokesman for Egypt's Catholic bishops, told Vatican Radio today that "40 churches - 10 Catholic and 30 Orthodox, Protestant and Greek-Orthodox - have been looted or burned, if not totally destroyed."
Asia News reports that in addition to churches, the "fundamentalists attacked monasteries, schools and many shops and houses inhabited by Christians. Several homes and shops were marked with a cross, and with violent slogans, as if to indicate them as a target for future attacks."
And it didn't stop There:
The scale of the looting of the Malawi Museum in the southern Nile River city of Minya laid bare the security vacuum that has taken hold in cities outside Cairo, where police have all but disappeared from the streets. It also exposed how bruised and battered the violence has left Egypt.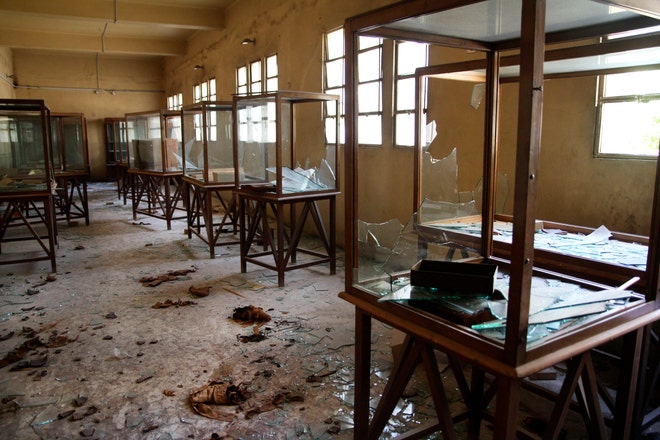 For days after vandals ransacked the building Wednesday, there were no police or soldiers in sight as groups of teenage boys burned mummies and broke limestone sculptures too heavy for the thieves to carry away. The security situation remained precarious Monday as gunmen atop nearby buildings fired on a police station near the museum.
...He said that until now, police have been unable to secure the museum. He accused members of ousted President Mohammed Morsi's Muslim Brotherhood, who have been spearheading protests against the government, of being behind the looting and attacks on the nearby police station...