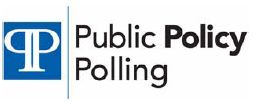 Obama would have considerably more trouble with Mitt Romney, who fights him to a 46-46 tie in the state. There has been an amazing degree of consistency in PPP's North Carolina Obama/Romney polling- over the course of 14 monthly surveys the result has always been something between a 1 point Romney lead and a 3 point Obama advantage. Obama has fallen into the 44-47% range every time and Romney has come in somewhere between 42-46% each time. There's a little doubt a contest between the two would be a hard fought toss up race.

Gingrich and Romney post virtually identical numbers against Obama with both Republicans and independents. But the key to winning statewide in North Carolina as a Republican is to peel off a lot of conservative Democrats- roughly 20% of the registered Democratic vote- and Romney is much better positioned to do that than Gingrich.
Head-To-Head:
Mitt Romney 45%
Barack Obama 45%
Barack Obama 49%
Newt Gingrich 45%
(-4)
Barack Obama 47%
Ron Paul 42%
(-5)
Barack Obama 50%
Rick Perry 42%
(-8)
PPP surveyed 865 North Carolina voters from December 1st to 4th. The margin of error for the survey is +/-3.3%.
The full story is
HERE
.
The crosstabs can be viewed
HERE
.
Please check us out on Facebook and If you like what you see, please "Like" us. You can find us
here.