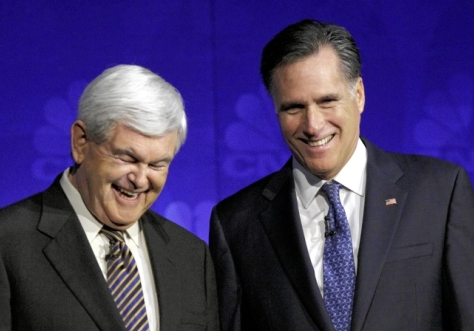 Former House Speaker Newt Gingrich said on NBC's "Meet the Press" in
May of this year
, that he supports requiring all individuals to buy health insurance, post a bond to pay for health care, "or in some way you indicate you're going to be held accountable"--a position he called a "variation" on the type of individual mandate included in President Barack Obama's health-care reform law:
Hear that? Gingrich supports a mandate on a "NATIONAL LEVEL" requiring YOU to purchase health insurance or to force YOU to post a bond. Either way you cut it, Gingrich supports a national mandate. Sure, he uses smoke & mirrors by using the term "variation". Well folks, a variation of a national mandate is still a national mandate.
Mitt Romney, on the other hand, believes that under the 10th Amendment, Massachusetts had the right to pass laws requiring that free riders purchase health insurance. This of course was something that Massachusetts residents supported (INCLUDING ME), and STILL DO.
Where does Romney stand on NATIONAL MANDATES requiring Health insurance? Here he is from an interview in September:
Now someone please explain to me, HOW Gingrich is an acceptable candidate for some conservatives and some Tea Party types? Because I don't get it! What am I missing?
Please check us out on Facebook and If you like what you see, please "Like" us. You can find us
here.