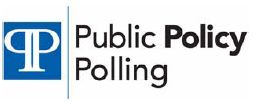 The story plays out in the horse races. Despite similar numbers in the two-party vote as

last time, Obama trails Romney, 46-44, because independents have moved from a 44-all

tie to 46-35 in Romney's favor. And though the president still trounces Sarah Palin, 53-

38, that is down from 56-34 based almost solely on declining support from nonpartisans.

Three candidates not tested head-to-head with the president last time also come as close

as if not closer than John McCain did to winning the state. Minnesotans Tim Pawlenty

(48-41) and Michele Bachmann (49-42) trail by identical margins, and even Herman Cain

equals McCain's performance, down 49-39.



Romney outdoes his GOP rivals not only with independents, but also across the aisle.

They take 7-8% of Democrats and let the president poach twice as many Republicans

(14-17%), but Romney earns 12% of Democrats and loses only 11% of the GOP.



"Barack Obama's slipped a lot from 2008 in New Hampshire," said Dean Debnam,

President of Public Policy Polling. "But at this point it looks like the GOP has to

nominate Mitt Romney to take advantage of the President's declining popularity."
Favorable/Unfavorable/Not sure:
Mitt Romney 43/42/15
(+1)
Michele Bachmann 39/46/15 (-7)
Herman Cain 25/37/38 (-12)
Tim Pawlenty 27/40/33 (-13)
Sarah Palin 31/62/7 (-31)
Head-to-Head:
(Obama/Candidate/Undecided)
Mitt Romney 44/46/10 (+2)
Tim Pawlenty 48/41/12 (-7)
Michele Bachmann 49/42/9 (-7)
Herman Cain 49/39/12 (-10)
Sarah Palin 53/38/8 (-15)
If you are a Democrat, press 1. If a Republican, press 2. If you are an independent or identify with another party, press 3.
Democrat 34%
Independent/Other 33%
Republican 32%
PPP surveyed 662 New Hampshire voters from June 30th to July 5th. No interviews were

conducted on July 3rd or 4th. The margin of error for the survey is +/-3.8%.

To view the crosstabs go
here
.
Please check us out on Facebook and If you like what you see, please "Like" us. You can find us
here.