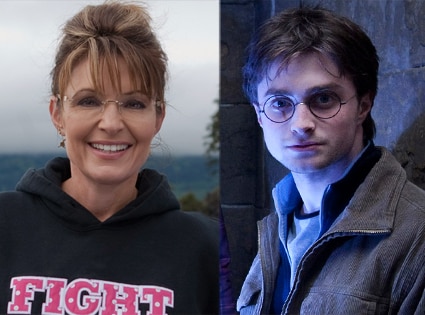 "The Undefeated" - the

political infomercial

focusing on the record of former Alaskan Governor Sarah Palin partial term in office, was given a reception as cold as an Alaskan tundra, at this morning's opening showing in the California GOP conclave of Orange County. Palin's picture drew in an audience of….

zero, zilch, nada

, at the midnight showing.
Really?
In Orange County?
That's like Reagan's hometown!
By comparison, "Harry Potter and the Deathly Hallows - Part 2" - the final chapter in the beloved franchise drew in 5,000 enthusiastic fans.
Now seriously,

no one (aside from perhaps the cage rattlers at C4P) expects Palin to out perform Potter, but it will be interesting to see how the two hour film fares, as it opens today

, in selected cities and theatres nationwide

.
The film's director, Steve Bannon, has been

touting the film as a game changer

, set to blow the GOP 2012 wide open. Time will tell if the film does that, or goes the way of Palin's much bally-hooed, but brief

bus

tour.
The political website

GOP12

has a little more on the story on the Orange County opening.
But in fairness to Palin supporters, it's still early, it's still early….
Please check us out on Facebook and If you like what you see, please "Like" us. You can find us
here.