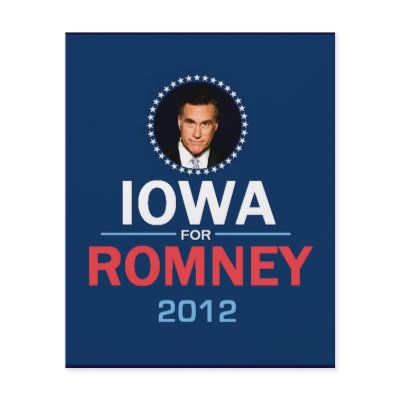 Press Release
from Romney's site:
Boston, MA – Mitt Romney today named additional members of his Iowa Leadership Team.



"I am pleased to announce additional members of my Iowa Leadership Team," said Mitt Romney. "I am proud to earn their support and look forward to working with them during my campaign to reverse President Obama's failed policies and create jobs."

Announcing his support as Romney for President Iowa Volunteer Legal Counsel, Mark Hudson said, "President Obama's policies have been complete failures for Iowa and the rest of the country. Instead of creating jobs and expanding the economy, President Obama has made job creation and economic development more difficult. Mitt Romney's record as governor is the opposite – he created jobs and cut taxes while balancing his state's budget."

Additional Members Of Mitt Romney's Iowa Leadership Team:

* State Senator James Hahn, Muscatine
* Romney For President Iowa Volunteer Legal Counsel And Former Linn County Republican Party Chairman, Mark Hudson, Marion
* Dallas County GOP Activist, Paul Bissinger
* Former University Of Northern Iowa College Republican Chairman, Patrick Finnegan, Des Moines
* Dr. Stephen Hunter, Iowa City
* Lorene Hunter, Iowa City

Very Interesting! If he can remain with-in striking distance to first place.
Is this part of some strategy to win by default there after the smoke from the Bachmann-Pawlenty Wars subside?
In politics, anything is possible!
Please check us out on Facebook and If you like what you see, please "Like" us. You can find us
here.