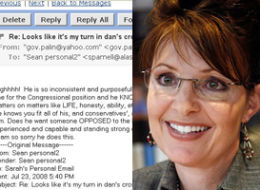 After a years-long delay, the state of Alaska released more than 24,000 pages of emails from about 21 months of Sarah Palin's time as Alaska governor on Frid

ay.



The emails were released as paper printouts to the media outlets that requested them, among them CBS News, which had a reporter in Juneau collecting the heavy boxes of emails. Media outlets paid $725 each for photocopies of the records.



Journalists are now busy reviewing the emails for nuggets of information from Palin's roughly half-term as Alaska governor, though the emails stop in September 2008, leaving almost of a year of her time in office uncovered. The state has said it has not finished reviewing the emails from late 2008 through the summer of 2009, when she abruptly resigned. It remains unclear when those emails will be released.



"There have been a few [emails] that make clear her disdain for the press and her surprise at voluminous requests for information," said CBS News Political Correspondent Jan Crawford, who is currently reviewing the documents.

"In one, she apologizes to her staff for having to deal with the media. In another to staff, she implies she had a contentious relationship with Alaska Congressman Don Young. But a good number obviously are on the issues she confronts as governor--energy bills, alternate energy issues, gas leases."
The full story is
here
.
If you feel like being a SNOOP, The New York Times has already published 59 days of emails into a viewer. If you look to the right of the viewer once at the site, you'll see a little box that reads:
Explore the E-mails


Join The New York Times in examining Sarah Palin's e-mail records by identifying messages you think deserve a closer look.

If you find something of interest, summarize what you see and tell us the e-mail date and page number. Include your name and e-mail address so we can notify you if we include your observation in an article.
Don't you want to help the NYT's? I Don't!
PRESS the POP-UP BUTTON
under the photo
below if you're interested in viewing these emails:
Please check us out on Facebook and If you like what you see, please "Like" us. You can find us
here.