Tim Pawlenty
:
George Pataki
:
Robert Gibbs
:
Doug Shoen: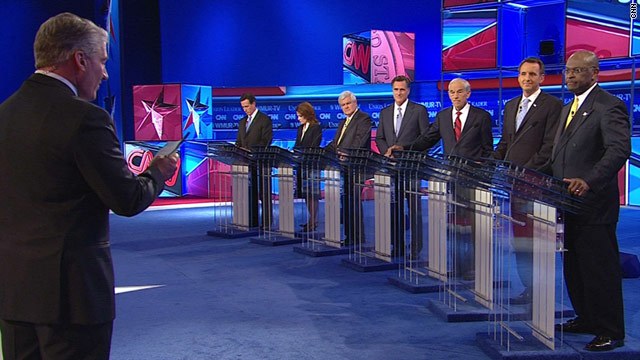 John Avlon
: (Avlon is a senior political columnist for The Daily Beast. He is the author of "Wingnuts: How the Lunatic Fringe Is Hijacking America.")


Strongest lines: No one sound bite dominated the debate, but two gimmicks stuck -- Mitt Romney announcing the Bruins' lead in Game 6 of the Stanley Cup to great applause and Michele Bachmann announcing her candidacy for president on the set.


Weakest lines: Tie: Tim Pawlenty's running away from his criticism of "Obamneycare" and Romney struggling to explain whether the troops should come home from Afghanistan.


Biggest winner

: Romney, if only because the other candidates seemed strikingly reluctant to take him on directly. He seemed the most presidential on the dais and that's what its all about.
Read Avlon's full analysis
here
.
David Gergen
: (Senior political analyst for CNN)
The first big Republican debate ended with two clear winners in the race for the nomination: Mitt Romney and Michele Bachmann. And there was one other candidate who helped himself: Newt Gingrich.



But whether this debate helped Republicans win the White House is a tougher question.

As to the individual candidates, Romney had a clear, easy-to-understand message and he stuck to it: Barack Obama has failed as president. Other candidates said much the same thing but with less consistency.
Read Gergen's full analysis
here
.
Slate
: The Mitt Romney Show
.....Scorecard analysis or thoughtful collection of paragraphs? Romney won the debate in that he didn't lose. There was nothing spicy about Romney (despite his answer), but he didn't hurt himself by seeming on all sides of the issue. Indeed, his explanation of the health care law he signed as governor of Massachusetts was one of his best yet. Not likely to satisfy theNational Review but likely to satisfy voters who want to get back to talking about the economy. When Romney's opponents were given a chance to wallop him on his flip-flops on abortion, no one took up the chance. "Case closed?" asked John King "Case closed," said Herman Cain.....
Read the slate article
here
.