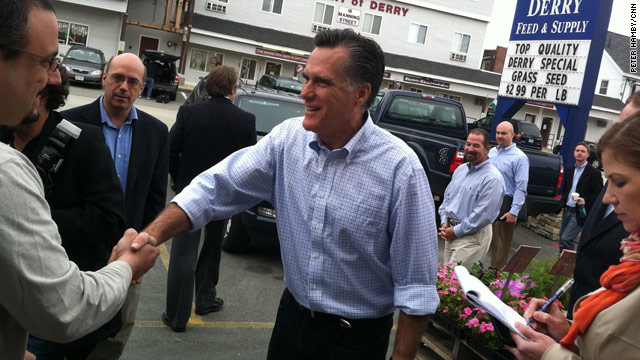 He won the debate. What better way to follow that up than with a breakneck morning tour of diners and shops along I-93? A bit after 8:20 a.m., a jeans-and-checked-shirt-clad Mitt Romney strode into Blake's Restaurant in Manchester and started shaking hands. He'd zero in on a table with an empty seat or two. He'd settle in. He'd ask a few questions about voters' lives. He'd get up, go to another table, repeat. Reporters trailed him every inch of the way.

"What do you do?" asked Romney at the first table.

"I'm a postal worker," answered the first diner.

"Ah, terrific! That's why you've got a good tan. But you're not out there walking the streets, are you?"

"I walk all day long."

"Do you really? You don't get of those fancy trucks with the steering wheel on the wrong side?"

"No," said the postal worker. "That's why I look like this. Like you. In shape!"

Romney chuckled and pressed on.

"So, you're about 55 years old? Are you thinking about retiring?"

"Do I have to?"

"Hah!" laughed Romney. "No. Are you required, by the way? Is there a retirement age required?"

"No, we just had a guy retire aged 86."

"Wow! So why quit early?

"I don't know. Maybe it's life! I don't know."
Read the complete article
HERE
.
Here Romney took to the streets of Derry, NH where he answered questions about his debate performance and what it will take to ensure Barack Obama is a one-term president.
Please check us out on Facebook and If you like what you see, please "Like" us. You can find us
here.