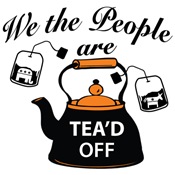 I found some interesting results buried in the latest McClatchy-Marist Poll. It shows that Mitt Romney and Rick Perry are the most popular 2012ers with the Tea Party:
Tea Party Support in General election-Registered voters:
(Candidate/Obama/Undecided)
Mitt Romney 81/12/7 (+69)
Rick Perry 82/14/4 (+68)
Michele Bachman 80/13/7 (+67)
Rudy Giuliani 79/19/2 (+60)
Tim Pawlenty 66/19/15 (+47)
Sarah Palin 67/23/10 (+44)
Percentage Tea Party support for GOP Nomination:
Rick Perry 20%
Mitt Romney 17%
Sarah Palin 16%
Michele Bachmann 12%
Rudy Giuliani 6%
Tim Pawlenty 4%
Cross tabs can be viewed
here
(See Pages 11-19).
To see the rest of the Poll in which Romney won, go
here
.
Please check us out on Facebook and If you like what you see, please "Like" us. You can find us
here.