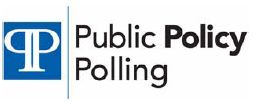 President Obama is still in decent shape to take Ohio's newly thinned

slate of electors next year, if a little weaker than when PPP last polled the crucial swing

state in mid-March. Then, he led his closest competitor, Mitt Romney, 46-40. Romney

has closed the gap a little, to 46-42, as have Newt Gingrich (from 50-38 to 49-40) and

even Sarah Palin (from 52-36 to 50-40). In a hypothetical matchup with Sen. Rob

Portman, Obama would prevail, 48-38....



.....Unlike in most places PPP has polled more than once in the last few months, Obama's

approval rating has actually declined in Ohio, from a narrowly positive 47-46 approvaldisapproval margin in March to 46-49 now. Unusually, the president has eroded support from with his own party, with only 78% approving and 19% disapproving (versus 84-11 in March), and with independents (from 39-49 to 37-55).
Favorable/Unfavorable/Not sure:
Bob Portman 28/33/39 (-5)
Mitt Romney 32/43/25
(-11)
Sarah Palin 34/58/9 (-24)
Newt Gingrich 22/59/19 (-37)
Head-to-Head
: (Obama/Candidate/Undecided)
Mitt Romney 46/42/12 (-4)
Newt Gingrich 49/40/11 (-9)
Sarah Palin 50/40/10 (-10)
Bob Portman 48/38/15 (-10)
PPP surveyed 565 Ohio voters from May 19th to 22nd. The margin of error for the survey

is +/-4.1%.
To view the crosstabs click the PPP icon below: