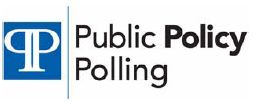 Obama hasn't received a big increase in his reelection margins, but he is still in a healthy position against his potential Republican opponents. He's up 5 points on Mitt Romney at 47-42, numbers basically identical to Obama's 47-41 lead last month. The next best Republican is Mike Huckabee who trails 49-42, a shade worse than his 48-43 deficit in April. Obama's 52-38 lead over Newt Gingrich is exactly identical to where that match up was on the last poll. And Obama's up 17 on Sarah Palin at 54-37 and 18 on Donald Trump at 53-35.



The Republican primary poll we released yesterday showed that Trump's chances of winning the nomination have pretty much disintegrated, but he could still have a major impact on the race by running as an independent, as he has threatened to do in the past. Trump gets 16% as an independent against Barack Obama (46%) and Mitt Romney (33%). A Trump third party bid increases Obama's margin over Romney by 8 points because he pulls 20% of the GOP vote but only 6% of the Democratic vote. If Trump's goal is to stay in the spotlight as long as possible the independent bid would certainly achieve that...but it would also hand Obama reelection.
Favorable/Unfavorable/Not sure:
Mike Huckabee 33/41/26 (
-8
)
Mitt Romney 32/41/27 (-9)
Mitch Daniels 14/33/53 (-19)
Newt Gingrich 29/53/18 (-24)
Sarah Palin 33/60/7 (-27)
Donald Trump 24/65/10 (-41)
Head-to-Head:
(Obama/Candidate/Undecided)
Mitt Romney 47/42/11 (-5)
Mike Huckabee 49/42/9 (-7)
Newt Gingrich 52/38/10 (-14)
Sarah Palin 54/37/9 (-17)
Donald Trump 53/35/12 (--18)
3-Way contest with Trump as Independent
:
Barack Obama 46%
Mitt Romney 33%
Donald Trump 16%
Undecided 5%
If you are a Democrat, press 1. If a Republican, press 2. If you are an independent or identify with another party, press 3.
Democrat 40%
Republican 34%
Independent/Other 27%
PPP surveyed 814 American voters from May 5th to 8th. The margin of error for the

survey is +/-3.4%. This poll was not paid for or authorized by any campaign or political

organization.
The full story is
here
.
To view the crosstabs click the PPP icon below: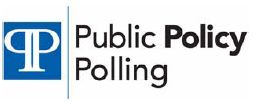 Please check us out on Facebook and If you like what you see, please "Like" us. You can find us
here.