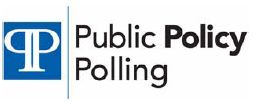 Despite his approval rating falling back to even (47% both approving

and disapproving, down slightly from 49-46 last month), President Obama has put a little

more distance between himself and three of his potential Republican opponents in the

race for the national popular vote since PPP's February poll. He now leads the four usual

frontrunners by five to 15 points and two little-known dark horses also by double digits.





Both Mike Huckabee (48-43) and Mitt Romney (47-42) trail the president by five points.

That is an identical margin as last month's results for Romney, but Huckabee was then

down by only three. Trailing by nine last month, Newt Gingrich is now behind 11 (50-

39). And, as ever, bringing up the rear among the usual suspects, Sarah Palin has

increased her deficit back to 15 points (53-38) after lagging by 12 in February. PPP also

tested likely contender Tim Pawlenty, who trails by 14 (47-33), and possible GOP

primary entrant Herman Cain, who loses by 18 (47-29).
Favorable/Unfavorable/Not sure:
Mike Huckabee 35/42/24
(-7)
Sarah Palin 35/57/8 (-22)
Mitt Romney 32/44/24 (-12)
Tim Pawlenty 15/33/52 (-18)
Herman Cain 9/29/62 (-20)
Newt Gingrich 26/57/17 (-31)
Head-to-Head: (Obama/Candidate/Undecided)
Mitt Romney 47/42/12 (-5)
Mike Huckabee 48/43/9 (-5)
Newt Gingrich 50/39/11 (-11)
Tim Pawlenty 47/33/19 (-14)
Sarah Palin 53/38/9 (-15)
Herman Cain 47/29/24 (-19)
PPP surveyed 642 American voters from March 10th to 13th. The survey's margin of

error is +/-3.9%. Other factors, such as refusal to be interviewed and weighting, may

introduce additional error that is more difficult to quantify.
To view the crosstabs click the PPP icon below: