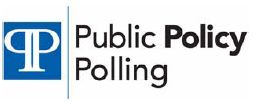 Despite his recent popularity spike there should be no mistaking it- Barack Obama is vulnerable for reelection. The problem for the GOP is that he's a lot more vulnerable against generic Republicans than the actual Republicans looking at the race. Nevertheless there's plenty of time for a lesser known GOP contender to rise from the back of the field and prove to be a strong contender, or maybe even for one of the current front runners to have an image makeover that makes them more viable in a general election.

Republican chances of taking down Obama are going to depend a lot on the type of candidate the party puts forward. Tested against a generic Republican we find Obama tied at 47%. When you ask about a couple more specific types of GOP candidates though the numbers move in different directions. Against a generic moderate Republican candidate Obama actually trails by 2 points at 46-44. But when you ask voters whether they'd go for Obama or a Tea Party conservative Republican he leads by 4 points at 49-45.

If the choices for president next year were Democrat Barack Obama and a conservative
Republican candidate endorsed by the Tea Party, who would you vote for?
(Obama/Republican)
Moderate Republican 44/46
Conservative Tea Party Republican 49/45
Would you describe yourself as very liberal, somewhat liberal, moderate, somewhat conservative, or very conservative?
Very liberal 8%
Somewhat liberal 18%
Moderate 30%
Somewhat conservative 25%
Very conservative 19%
Favorable/Unfavorable/Not sure:
Mike Huckabee 36/30/34
(+6)
Jeb Bush 29/37/33 (-8)
Mitt Romney 33/42/25 (-9)
Ron Paul 24/45/31 (-19)
Sarah Palin 34/56/9 (-22)
Newt Gingrich 27/52/20 (-25)
Donald Trump 27/56/17 (-29)
Head-to-Head: (Obama/Candidate/Undecided)
Mike Huckabee 47/44/9 (-3)
Mitt Romney 46/41/13 (-5)
Newt Gingrich 49/40/11 (-9)
Ron Paul 48/39/13 (-9)
Sarah Palin 52/40/9 (-12)
Jeb Bush 50/36/14 (-14)
Donald Trump 48/34/17 (-14)
PPP surveyed 600 registered American voters from February 11th to 14th. The survey's

margin of error is +/-4.0%. Other factors, such as refusal to be interviewed and

weighting, may introduce additional error that is more difficult to quantify.
The full story is
here
.
To view the crosstabs click the PPP icon below: