Chris Cillizza of the Washington Post pointed out yesterday in an
article
that
much has been made of the idea that President Obama will use Congressional Democrats as a foil over the next two years -- triangulating against his own side to grab the ideological center and appeal to electorally critical independent voters.
But what about potential Republican candidates trying the same thing against the New GOP majority? Cillizza goes on to use Mitt Romney as an example of this.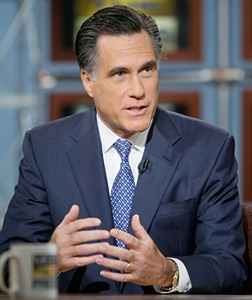 Former Massachusetts Gov. Mitt Romney, the de facto frontrunner in the 2012 field, drew national headlines when he came out against the tax cut compromise in a USA Today op-ed.
Wrote Romney:
"Given the unambiguous message that the American people sent to Washington in November, it is difficult to understand how our political leaders could have reached such a disappointing agreement."
He sites Romney's
opposition to the START treaty
as another example of his
triangulating
.
The strategic underpinnings of Romney's positions on the tax compromise and START are sound.
Romney wants to make clear he isn't part of the Washington crowd and isn't interested in putting his stamp of approval on anything that hands President Obama a legislative victory.
With many Republican voters skeptical of their own parties leadership, it is possible that they would respond positively to a candidate
who purposely runs against that group
.
Triangulation then may be the name of the game for would-be 2012 candidates in the coming months.
To read the entire article, go
HERE
.
I'm not sure if I can agree with Cillizza's assessment that this is some kind of Romney strategy to position himself as an outsider. I believe he opposed the Tax Bill Compromise and START Treaty, simply because they were both bad and that he felt that the NEW Congress should have been the ones making the decisions.