As devoted Sarah Palin fans get set to gather their families around their TV sets for the airing of tonight's second installment of the TLC reality show,
"Alsaka's Sarah Palin
" -- pardon me, "Sarah Palin's Alaska" - the Weekly Standard's Matt Labash has a
blistering review
of the show on their web site. It's a little surprising, since the WS has in the past been a pro-Palin entitiy.
Labash offers a scathing account of the show, as well as a commentary on the machinations and calculated moves behind the show's creation. Right from the opening paragraph, Labash let's loose with both barrells: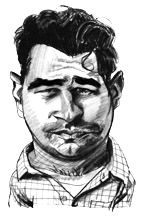 Matt Labash

"

Just how Sarah is Sarah Palin's Alaska, her new hit reality show on the TLC network? It's soooo flippin' Sarah, as Sarah would say. And it's soooo Alaska, which Palin pronounces "A-LASK-ahhhh." She repeats this on the show over and over again, as though we might forget where she's from otherwise. She says it in that chirpy honk that, to her legions of fans, represents the music of Mom, apple pie, and flyover country. To her legions of enemies, it is the sound of gum smacking and syntax breaking. As Palin intones in the show's opening, "A-LASK-ahhhh—I love this state like I love my family." Except that she didn't give her family up after governing it for two-and-a-half years, so that she could get a Fox News contract, and make 100 grand per speech, and write two books in a year, and drag her entire family onto a tacky reality show."
It doesn't get any better from that point on. Labash examines Palin's adroit and constant use of social media, her love-hate relationship with the Lame Stream Media and how she has nutured and gained from her explosive celebrity.
Palin fans won't appreciate all the details and the authors caustic comments, while Palin detractors will relish in them.
Seems like something for just about everybody!
(This post is meant to inform, not agitate.)