Ukrainian forces expand control in Kherson Oblast – ISW:
Ukrainian troops have expanded control over their positions north of the village of Pidstepne (17 kilometres east of the city of Kherson).
Source: Institute for the Study of War (ISW), citing Russian informants
Details: In addition, Ukrainian troops launched counteroffensive actions near the town of Bakhmut and the west of Zaporizhzhia Oblast.
Russian military bloggers (milbloggers) claimed that Ukrainian troops retained their positions on the eastern (left) bank part of Kherson Oblast as of 6 November.
A Kremlin-affiliated milblogger said Ukrainian forces were still holding positions in one part of the settlement of Krynky (30 kilometres east of Kherson and about 2 kilometres inland from the Dnipro River shoreline) despite Russia's attempts to push Ukrainian forces back from the left bank part of Kherson Oblast.
Another Kremlin-linked military blogger reported that Ukrainian troops had repelled a Russian attack near Krynky and that units of the Russian 177th Marine Regiment (Caspian Flotilla) were bombarding Ukrainian positions on the western (right) bank part of Kherson Oblast.
The Ukrainian General Staff reported that Ukrainian forces had pursued their offensive on the Bakhmut and Melitopol (western Zaporizhzhia Oblast) fronts.
A prominent Russian military blogger said Ukrainian forces had launched a counterattack near the settlement of Krasnohorivka (6 kilometres northwest of the town of Avdiivka) between 3 and 5 November, forcing Russian troops to retreat from part of the railway line in the area.
A Russian armed formation, the Russian Legion (BARS-13), claimed that Ukrainian forces were successfully pressuring Russian troops near the village of Stepove and the Tsarskaia Okhota restaurant south of Avdiivka. --->READ MORE HERE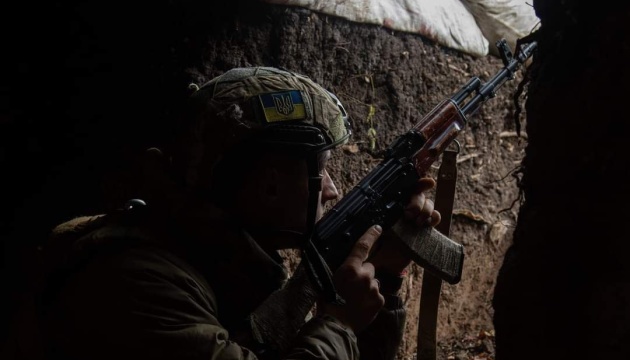 War update: Ukrainian forces repel enemy attacks in five sectors:
Ukraine's defense forces repelled Russian attacks in five sections of the front on Tuesday, November 7.
The General Staff of the Armed Forces of Ukraine said this in a situation update as of 18:00 on November 7.
According to the update, 36 combat clashes took place at the front throughout the day. The operational situation in the east and south of Ukraine remains difficult.
Ukrainian forces continue an offensive operation on the Melitopol axis. On the Bakhmut axis, Ukrainian defenders continue to carry out offensive (assault) actions.
Throughout the day, Ukrainian aircraft launched 21 strikes on enemy positions, including four strikes on anti-aircraft missile systems and the rest on areas where enemy manpower, weapons and military equipment were concentrated.
Ukrainian rocket forces, in turn, struck six artillery pieces of the Russian army, two command centers, a fuel depot, an area of concentration of military personnel, weapons and equipment, an air defense asset, two radars and an EW station of the invaders.
Russian forces carried out 3 missile strikes, 35 air strikes and 30 MLRS attacks on the positions of Ukraine's defense forces and settlements. --->READ MORE HERE
Follow links below to
+++++relevant+++++
and related stories:
+++++Russia-Ukraine News LATEST UPDATES: (REUTERS) (AP) (NY POST) and (WSJ)+++++
+++++Ukraine's Armed Forces continue to assault south of Bakhmut − General Staff+++++
+++++Ukraine Destroys Drone Training Center in Donetsk with Missile Strike+++++
+++++Ukrainian defenders kill 890 Russians and destroy 21 artillery systems+++++
Ukraine says troops repel Russian attacks along front line
Dozens of Russian military equipment, 583 enemy personnel eliminated southern Tavria sector
Ukrainian Armed Forces inflict significant losses, Russians fail to advance in Kupyansk sector
Ukraine's Armed Forces drive Russian unit out of occupied village with FPV drones
Six killed, 11 wounded in Ukrainian shelling of Donetsk -Russian-installed official
Ukrainian attack on warship in Kerch may force Russia to move its fleet further – UK intelligence
Zelenskyy: Ukraine's air shield will be even stronger
Zelensky: First Dutch F-16 jets already in Romania
General Staff: 78 combat clashes on front lines, enemy suffers significant losses in Avdiivka sector
Just 10 days before another government shutdown, Congress expands to-do list with Ukraine, border
Activist hands ICC evidence he says implicates Belarus president in transfer of Ukrainian children
20 sapper teams of the Armed Forces of Ukraine received pickup trucks and mine clearance kits
Ukrainian Air Force: Ukraine to increase the number of mobile air defense Teams
If you like what you see, please "Like" and/or Follow us on FACEBOOK
here,
GETTR
here
, and TWITTER
here
.