WSJ: Ukraine Damages Russian Cruise Missile Carrier In Latest Strike on Crimea:
Warship struck by Kyiv is among the most advanced in Russia's Navy
Moscow said a Ukrainian strike had damaged a Russian ship moored in occupied Crimea, the latest sign that Ukraine's stepped-up attacks are dealing further blows to the Russian Navy.
Russia's statement came after Ukraine's Air Force on Saturday said it had launched cruise missiles at a shipbuilding facility in Kerch, in east Crimea, that had damaged one of Russia's most modern cruise missile carriers. The hit to the ship came as Ukraine's top military commanders describe the battlefield situation as a stalemate.
"Well done! It's like you used a SCALPel," Lt. Gen. Mykola Oleshchuk, commander of Ukraine's Air Force, wrote on the messaging app Telegram. He was hinting the attack was conducted by French Scalp long-range cruise missiles, a twin version of the Storm Shadow missiles provided by the United Kingdom.
Retired navy officer Andriy Ryzhenko told Ukrainian media on Sunday that only one Russian cruise missile carrier, the Askold corvette, was docked in Kerch on Saturday, the day of Ukraine's attack. Referring to satellite images from Planet Labs, published by Ukrainian media, he said the ship was still on water but there was clear damage to its upper part.
The Askold, one of Russia's most modern warships, was unveiled at a ceremony at the Kerch shipyard in September 2021, five months before Russia launched its invasion of Ukraine, according to Russia's TASS state news agency. It is "based on the most advanced domestic technologies," TASS said, and armed with Kalibr cruise missiles that since early 2022 have been used in attacks on Ukrainian cities and infrastructure.
Russia's ministry of defense said in a statement on Sunday that its air defenses over Crimea had shot down 13 out of 15 cruise missiles fired by Ukraine at the shipbuilding plant in Kerch. The ministry said a ship that was at the plant had been damaged by one of the missile strikes, but it didn't specify which ship was hit.
Also, on Sunday, Ukrainian President Volodymyr Zelensky offered condolences to the families of Ukrainian service members killed in Zaporizhzhia region on Friday when a Russian missile struck a gathering of troops. --->READ MORE HERE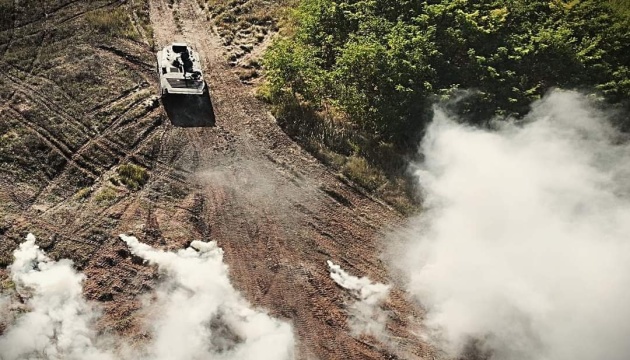 War update: Russians conduct unsuccessful offensive actions in five sectors:
In the past 24 hours, Russian troops have made unsuccessful attempts to conduct assault actions in the Kupiansk, Bakhmut, Avdiivka, Marinka and Zaporizhzhia directions. Ukrainian forces repelled more than 30 enemy attacks.
The relevant statement was made by the General Staff of the Armed Forces of Ukraine on Facebook, an Ukrinform correspondent reports.
Over the past day, 44 combat engagements have occurred on the front. The operational situation is remaining challenging in eastern and southern Ukraine.
Ukraine's Defense Forces continue conducting the offensive operation in the Melitopol direction and offensive (assault) actions in the Bakhmut direction.
Ukraine's Air Force launched 10 strikes on Russian personnel, ammunition and military equipment clusters. Four enemy reconnaissance drones were shot down.
Ukrainian missile units hit three enemy artillery systems and four personnel, ammunition and military equipment clusters.
Russian troops launched two missile strikes and 34 air strikes, and opened fire with multiple launch rocket systems (MLRS) 36 times on Ukrainian positions and settlements.
Following Russian attacks, residential houses and other civil infrastructure were damaged. Casualties among civilians were reported.
In the Volyn and Polissia directions, the operational situation remained rather unchanged. No signs of enemy offensive groupings were detected. Certain Belarusian units are completing tasks within the areas bordering with Ukraine. --->READ MORE HERE
Follow links below to
+++++relevant+++++
and related stories:
+++++Russia-Ukraine News LATEST UPDATES: (REUTERS) (AP) (NY POST) and (WSJ)+++++
+++++Military: Ukraine destroys Russian electronic warfare system+++++
+++++More than 80 combat clashes on front lines, Ukraine's Air Force launches 3 strikes on enemy positions +++++
+++++Ukrainian defenders kill almost 1,000 Russian soldiers over past 24 hours+++++
Official: Russian ammunition depot on fire deep in occupied Donetsk Oblast
Video shows moment Ukraine's Storm Shadow missiles strike Russian Fleet in Kerch
Ukrainian Air Force Commander confirms destruction of Russian warship in Kerch
Near Donetsk front line, Ukraine artillery crew face intensifying fire
Tavria sector: Enemy lost 413 personnel, 12 vehicles in past day
Ukrainian forces gradually advancing in Bakhmut sector
Russians pursuing "cannon fodder assault" tactics - Defense Forces
Ukraine's military coming up with plans to 'move forward faster,' Zelensky says
Ukraine destroys part of Russia's 'anti-drone dome' near Tavria in southern Ukraine
Zelenskyy insults Putin using F-word on air on NBC News
Mayor: Russian strike damages Odesa art museum
Contract service to replace conscription, intensive military training for citizens, coming to Ukraine's army
Ukraine considers shifts in strategy to strike Russia unexpectedly – Zelensky
If you like what you see, please "Like" and/or Follow us on FACEBOOK
here,
GETTR
here
, and TWITTER
here
.