Yes, Blame For migrant flood rests on Biden — but Adams isn't helping himself, or the city:
President Biden has failed on immigration, so he's looking for any reason he can find to blame Mayor Adams for the ensuing mess in New York City.
But Adams keeps giving the White House reasons to blame him.
Just because Biden has failed doesn't let Adams off the hook for his own blunders over the past year.
It's worth repeating that the White House created this problem. At least 3 million people have crossed the border on Biden's watch.
Yet the president has offered no proposal to the G20 or Congress for how the West should treat asylum seekers when hundreds of millions of people across the world are potentially asylum-seekers.
Nor has he offered thoughts to Congress on whether the nation should admit a higher number of lawful economic migrants.
But Adams has made this national problem into a local crisis.
Biden's Department of Homeland Security was correct to note, in a leaked document, that Adams has "no exit strategy" for migrants in city-paid shelters. --->READ MORE HERE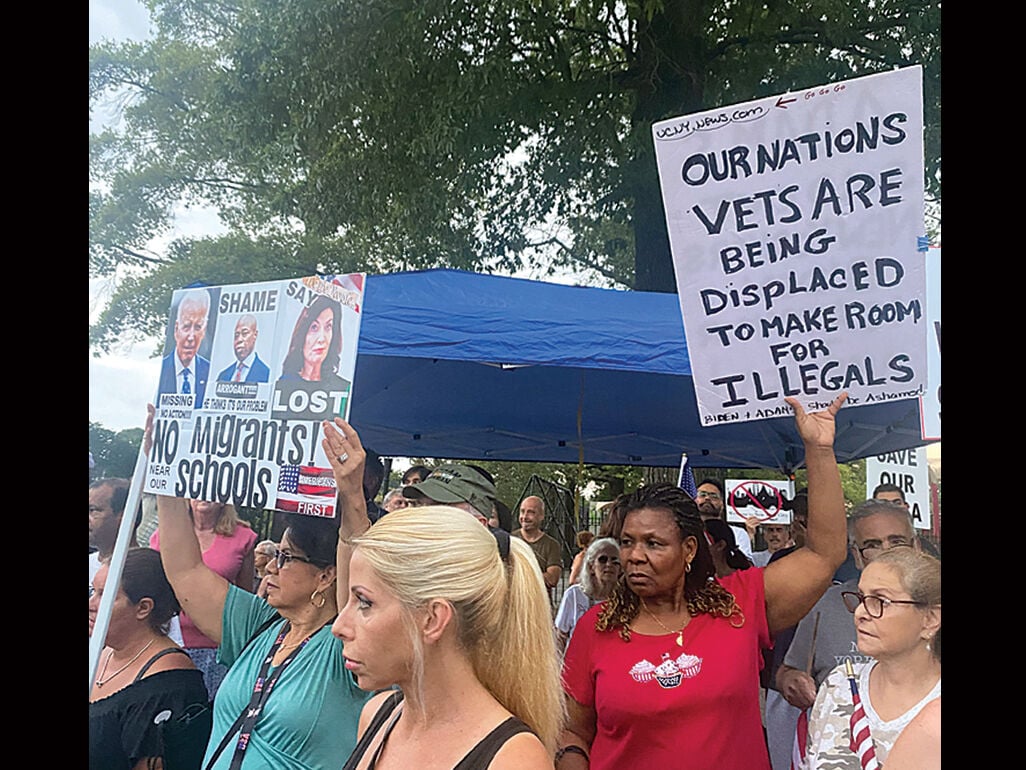 Tensions rise at Creedmoor migrant rally:
Residents oppose tent housing near schools in Queens Village
With booming chants of "No tents, no migrants," protesters' voices brought thunder to accompany the dark clouds at a rally against the migrant tent city on Creedmoor Psychiatric Center's campus in Queens Village last Friday.
Nearly 150 people gathered outside the playground of PS 18 at Hillside Avenue and Avenue C across the street from the tent city, which houses over 1,000 migrant men.
Located near PS 18, Martin Van Buren High School and Parsons Preschool, the tent city was met with hostility since Mayor Adams confirmed plans for it in July — a protest of about 100 people took place the day after the announcement.
Opponents retained momentum at Friday's rally, with their shouts of "No tent city, we say no" and various signs with phrases such as "Stop the Illegal Alien Invasion" and "Eric Adams 1-Term Mayor."
One attendee shouted, "if you don't stop the flow at the border, you're accomplishing nothing" as he arrived in the midst of a speech and was promptly told that "one person speaks at a time."
That did not stop him from interrupting Hollis Hills resident and NYC Department of Education teacher Carin Bail, who said she attended the rally to advocate for children, not to fight against migrants.
"She's a liberal, she said the migrants aren't the problem. Are you f---ing kidding me? If they weren't here, we wouldn't be here," he shouted, drowning out Bail's attempts to speak. When another attendee urged everyone to respect speakers, he said, "You gotta give respect to get respect," while someone else shouted "Shut up and listen." When confronted by another attendee, he said she "need[s] to get out of [my] face." --->READ MORE HERE
FOLLOW LINKS BELOW TO RELATED STORIES:
Staten Island leaders ask judge to force closure of asylum seeker shelter at former St. John Villa Academy
Neighbors protest migrants sheltered in NYC
If you like what you see, please "Like" and/or Follow us on FACEBOOK
here,
GETTR
here
, and TWITTER
here
.