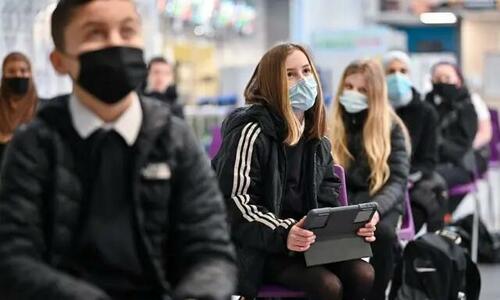 "Screw Your Face Diapers!!" Mask Mandate Return Sparks 'We Will Not Comply' Trend:
A number of people on social media have declared that "we will not comply" with COVID-19 mask mandates as some hospitals and businesses have moved to reinstate such rules in recent weeks.
Notably, former President Donald Trump released a video addressing "every COVID tyrant who wants to take away our freedom."
"Hear these words: We will not comply. So don't even think about it," he said. "We will not shut down our schools. We will not accept your lockdowns. We will not abide by your mask mandates and we will not tolerate your vaccine mandates."
"Amen, Mr. President. WE WILL NOT COMPLY!" wrote Arizona Republican gubernatorial candidate Kari Lake on X, or Twitter.
While the former president had no authority to issue lockdowns, officials under his administration came up with national guidelines in early 2020—when the virus first arrived on U.S. soil—in a bid to deal with COVID-19. Later in 2020, President Trump declared that he opposes lockdowns and mandates, saying that "lockdowns are killing countries all over the world" and called on "Democrat governors" to "open up" their states.
"Just a reminder. We will not comply. Ever again. Screw your face diapers!! #masks," wrote Fox News' Tomi Lahren days before on X.
Former "Saturday Night Live" actor Rob Schneider had a similar message as an Atlanta college confirmed it would reinstate masking. "Regarding your precautionary mask mandate… I have a precautionary Foot I'd like to shove up your [expletive]! But don't worry, it's just for the next 14 days! For your own protection! Ps. Students WAKE UP, SHEEPLE! SAY NO!" he wrote. --->READ MORE HERE
NY POST: Masks don't work against COVID-19 and Dr. Fauci should use one to gag himself:
Here we go again.
First, Anthony Fauci pokes his head up to claim, against all evidence, that masks do stop COVID-19 after all.
Then, right on cue, the White House announces that Fauci's No. 1 fan, President Biden, will be "masking indoors" after the double-vaccinated, twice-boosted first lady contracted the virus for the third time in 13 months.
Then Whoopi Goldberg, who once declared she was "boosted within an inch of your life," goes missing from "The View" with her third bout of COVID.
"As you can see, Whoopi is not here," co-host Joy Behar said Tuesday.
"She has COVID. It's back! It's back!"
Co-host Ana Navarro exclaimed to the live audience: "Clap if you had your third booster!"
The ladies were fairly giddy with excitement over the imminent return of the "plague."
Hasn't learned a thing --->READ MORE HERE
Follow links below to relevant/related stories and resources:
Fauci: Masks Didn't Work for 'Broad Population' — But on Individual Basis 'There Is an Advantage'
Sen. Paul says Dr. Fauci's defense of masks is 'subterfuge' in light of new study
USA TODAY: Coronavirus Updates
WSJ: Coronavirus Live Updates
YAHOO NEWS: Coronavirus Live Updates
NEW YORK POST: Coronavirus The Latest
If you like what you see, please "Like" and/or Follow us on FACEBOOK
here,
GETTR
here
, and TWITTER
here
.