Ukrainian military advancing in several areas, despite dense minefields, says Zelenskyy:
Ukrainian troops are advancing in several areas during the current counter-offensive, but are facing difficulties due to dense minefields, Ukrainian President Volodymyr Zelenskyy said at a briefing on Aug. 23.
"We can observe it in several areas. We're advancing," President Zelenskyy said.
"It's very difficult for us as there are lots of dense minefields. Thousands of mines are what Russia is leaving behind. The most important is the trends. The military reports the following trend to me: we're constantly moving and advancing."
The Armed Forces of Ukraine are advancing slowly, but the direction is correct, Zelenskyy added.
The Ukrainian Armed Forces counteroffensive: What is known
Earlier, the Ukrainian military's General Staff confirmed the Armed Forces' success in the area of Robotyne, stating that service personnel are solidifying their positions in the newly liberated territory. They are also continuing to advance towards Melitopol.
Overall, in June, the Defense Forces reclaimed nine settlements in southern and eastern Ukraine. Additionally, in July, Ukraine liberated the village of Staromayorske, located next to Urozhayne in Donetsk Oblast.
Ukrainian defenders "continue to create conditions for advancement step by step," said Ukrainian Armed Forces Commander-in-Chief Valerii Zaluzhnyi. --->READ MORE HERE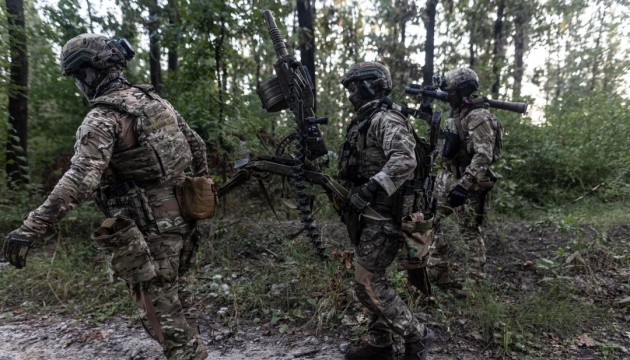 Ukrainian Defense Forces make progress towards Novodanylivka, Novoprokopivka in Zaporizhzhia
Ukrainian soldiers are consolidating their positions in the area of Novodanylivka and Novoprokopivka.
Andriy Kovalev, the spokesman for the General Staff of the Armed Forces of Ukraine, said this on the air of the nationwide telethon 'United News', according to Ukrinform.
"Ukrainian Defense Forces continue to conduct offensive operations in the Bakhmut and Melitopol directions. They succeeded in the direction of Novodanylivka and Novoprokopivka. They are consolidating their positions and inflicting artillery fire on the identified enemy targets. They are also carrying out counter-battery measures," he said.
Kovalyov added that in the Bakhmut direction, the Armed Forces continue to conduct offensive operations south of Bakhmut. The soldiers are also consolidating their positions. At the same time, according to the spokesman, the enemy conducted unsuccessful actions in the areas of Klishchiivka, Avdiivka and Mariinka in the Donetsk region.
As reported, over the past day the enemy launched four missiles and 58 air strikes, fired 60 missile attacks from multiple launch rocket systems at the positions of our troops and populated areas. Unfortunately, Russian terrorist attacks have resulted in deaths and injuries.
Follow links below to
+++++relevant+++++
and related stories:
+++++Russia-Ukraine News LATEST UPDATES: (REUTERS) (AP) (NY POST) and (WSJ)+++++
+++++Ukrainian forces destroy Russian air defense system on Tarkhankut Cape in Crimea+++++
+++++Ukraine forces down 11 Shahed drones overnight Wed+++++
General Staff: Ukraine's Armed Forces continue offensive in Melitopol sector
Zelenskyy explains how 61 F-16 fighter jets will be transferred to Ukraine
Ukrainian strikes on Crimea have hit only fraction of targets, says analyst
Lithuania to deliver NASAMS launchers to Ukraine in September
Long-range missiles provided to Ukraine hit almost 100% of time – Zelenskyy
Zelenskyy explains why Ukraine's Armed Forces have not moved all forces to southern front: that's what the Russians expect us to do
Russia's 'General Armageddon' reportedly dismissed after vanishing in wake of Wagner uprising
Wagner Mercenary Chief Prigozhin Dies in Russia Plane Crash
Ukraine Renews Its Independence
Russia destroys 13,000 tons of grain at Ukrainian Danube river port of Izmail - minister
Shmyhal: Ukraine wants to use frozen Russian assets for reconstruction of Crimea
Finnish PM arrives in Kyiv, 18th military aid package to be announced
Russians trying, and failing, to jam Starlink terminals in Ukraine, says U.S. Space Force chief
Japan to provide $7 billion in aid to Ukraine — PM Kishida
If you like what you see, please "Like" and/or Follow us on FACEBOOK
here,
GETTR
here
, and TWITTER
here
.