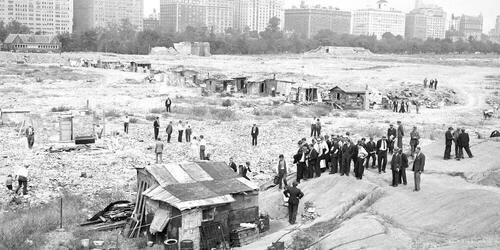 Biden's Open-Border Policies Create Depression-Era "Hooverville" In New York's Central Park
The Depression-era shantytowns known as Hoovervilles, are about to make a triumphal return smack in the middle of New York's Central Park.
Amid a relentless influx of illegal immigrants that has exposed liberal NIMBY hypocrisy in the quote-unquote Sanctuary City that is New York, Bloomberg reports that officials are considering housing migrants in Manhattan's Central Park and Brooklyn's Prospect Park as part of a plan to find new sites for some of the more than 95,000 asylum seekers who have arrived in the past 15 months.
"Everything is on the table," Deputy Mayor for Health and Human Services Anne Williams-Isom said Wednesday at a press conference when asked about housing migrants in city parks. The sites are among 3,000 locations the city is reviewing, she said.
LIVE NOW: Deputy Mayor Anne Williams-Isom hosts an asylum seeker briefing at City Hall https://t.co/pHBpIWl4fK

— NYC Mayor's Office (@NYCMayorsOffice) August 2, 2023
Gothamist first reported that New York City is considering erecting tents in the two major parks and on Randall's Island as possible sites for the asylum seekers, citing unidentified people familiar with the discussions.
According to Bloomberg, Williams-Isom declined to comment on how imminent the plan is, and didn't answer a question about who the city is working with on potential plans to house people in city parks, although it is safe to assume that Blackrock is going to expand its role as America's favorite (and biggest) landlord monopolist by branching out into tents (and collecting a generous multi-billion government handout in the process). --->READ MORE HERE
'There is no more room': NYC considers housing illegal immigrants in Central Park: Report:
New York City officials are considering housing illegal immigrants in iconic Central Park, as local politicians said all options are "on the table" as the city attempts to deal with thousands of newcomers each week.
As reported by TimCast, New York City Mayor Eric Adams already said that "from this moment on, it's downhill. There is no more room," while his office acknowledged that more than 95,000 migrants have arrived in since spring 2022.
With hotels at capacity, hundreds of migrants have been seen sleeping on city sidewalks, often on pieces of cardboard, littering the streets with trash and clothing in what look like extremely inhumane conditions.
"Everything is on the table," Deputy Mayor for Health and Human Services Anne Williams-Isom said Wednesday at a press conference, according to Bloomberg. The city is reportedly looking at 3,000 locations for possible housing relief.
Williams-Isom added that "the system is at a breaking point" in response to questions about housing the migrants in parks.
Outlets are in a frenzy as more and more information leaks about the city's alleged plans. The Gothamist reported that the city is looking to erect tents in Prospect Park in Brooklyn and Randalls Island, where officials opened a tent facility in a parking lot in autumn of 2022. --->READ MORE HERE
If you like what you see, please "Like" and/or Follow us on FACEBOOK
here,
GETTR
here
, and TWITTER
here
.