We have managed to seize strategic initiative, there are advances – Ukrainian Armed Forces Commander-in-Chief:
The Ukrainian Defence Forces have managed to seize the strategic initiative at the front and have been pushing forward, said Valerii Zaluzhnyi, Commander-in-Chief of the Armed Forces of Ukraine (AFU), during a telephone conversation with Chairman of the US Joint Chiefs of Staff General Mark Milley.
Source: Zaluzhnyi on Telegram
Quote: "We discussed the situation at the frontline. We have managed to seize the strategic initiative, the Security and Defence Forces of Ukraine continue to conduct offensive operations, and we are making progress.
The enemy is putting up a strong fight while suffering heavy losses. They are trying to hold on to their positions through massive mining of the area."
Details: Zaluzhnyi also briefed Milley on the current needs of the Ukrainian Armed Forces for weapons, ammunition and mine clearance equipment and thanked him for the military aid package announced by the United States earlier.
"We agreed to stay in touch and coordinate actions to ensure the liberation of Ukrainian territory," the Commander-in-Chief of the AFU concluded. --->READ MORE HERE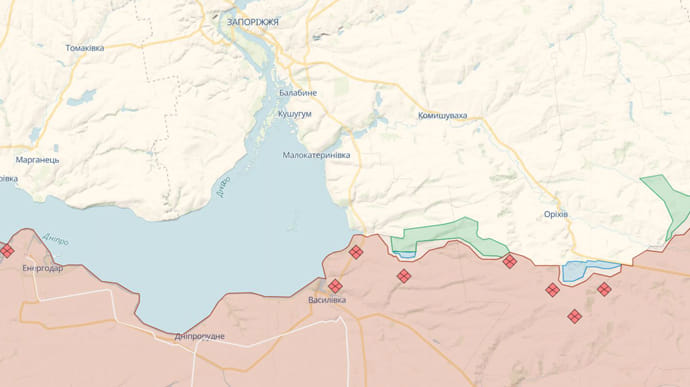 Ukrainian forces advance 1,300 metres on Berdiansk front – Ukrainian Deputy Defence Minister:
Ukraine's defence forces are making gains in southern and eastern Ukraine, advancing 1,300 metres on the Berdiansk front, 1,200 metres on the Klishchiivka front, and 1,500 metres on the Kurdiumivka front.
Source: Hanna Maliar, Ukraine's Deputy Defence Minister, on Telegram
Quote from Maliar: "Our defence forces are continuing to mount an offensive on the Melitopol, Berdiansk and Bakhmut fronts.
They are clawing back every metre of our land from the enemy in tough battles. They are making gains.
Meanwhile, enemy forces are continuing their attempts to advance on the Lyman, Avdiivka and Marinka fronts, but are unsuccessful. [...]
Enemy forces are amassing all their reserves – even a marine brigade that had earlier fled Kherson.
On the Berdiansk front, [Ukraine's defence forces] have advanced by some 1,300 metres."
Details: Maliar also reported that Ukrainian defence forces are also making gains on the Rivnopil–Volodyne axis, where they are currently consolidating their recently captured positions and inflicting significant losses on Russian forces: "They are practically bleeding the enemy's offensive capabilities dry, destroying their equipment, storage depots and command centres, and killing their personnel."
On the Bakhmut front in eastern Ukraine, Ukraine's defence forces have regained the initiative. --->READ MORE HERE
Follow links below to
+++++relevant+++++
and related stories:
+++++Russia-Ukraine News LATEST UPDATES: (REUTERS) (AP) (NY POST) and (WSJ)+++++
+++++Ukraine war latest: Reznikov says 'main event' of counteroffensive ahead; Russian June 27 attack on Kramatorsk kills 11+++++
+++++WSJ: Putin Moves to Seize Control of Wagner's Global Empire+++++
Ukraine defence minister says main troop reserves yet to be used, Financial Times reports
'Clash of Civilizations': Why Russia can't beat Ukraine
Edelweiss Mountain Assault Brigade shoots down Russian Su-25 jet
Top Russian general who knew about mutiny plot now missing amid rumors of 'interrogation'
Russia outlaws critical news outlet as 'undesirable' in continued crackdown on dissent
Ukraine calls for signal on NATO membership at alliance summit
US approves $15 billion in Patriot and missile defense upgrades for Poland
Sweden's NATO bid could face delay beyond Vilnius summit -Western official
Most Americans support US arming Ukraine, Reuters/Ipsos poll shows
Lithuania buys NASAMS air defence for Ukraine
Cheap Russian drone a menace to Ukrainian troops and equipment
Polish, Lithuanian presidents back Ukraine's NATO membership ahead of Vilnius summit
Switzerland blocks re-export of 96 Leopard tanks to Ukraine
Poland fortifies its border with Belarus due to relocation of Wagnerites
If you like what you see, please "Like" and/or Follow us on FACEBOOK
here,
GETTR
here
, and TWITTER
here
.