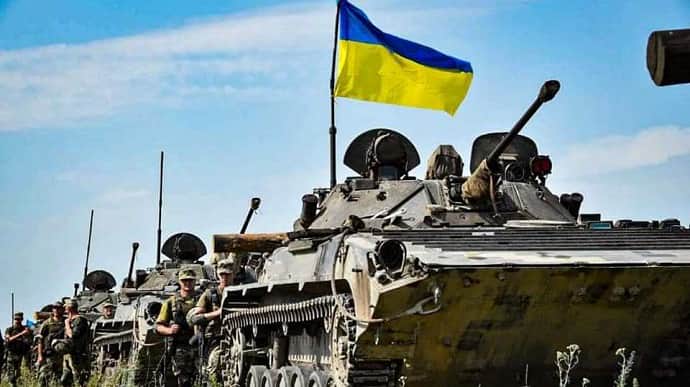 Ukrainian forces conduct counteroffensive on six frontline areas, achieving success – ISW:
Based on an analysis of data from various sources, analysts at the Institute for the Study of War (ISW) note that on 2 July, the Ukrainian forces launched a counteroffensive in six frontline areas and achieved success in some of them.
Source: report by the Institute for the Study of War
Details: The report states that on 2 July, Ukrainian troops conducted counteroffensive operations in six areas of the front, and some of them achieved success.
Experts also recall that Russian troops carried out another series of missile attacks on the south of Ukraine and Kyiv on 2 July.
They also point out that the Russian Ministry of Defence (MoD) is aiming to strengthen its grip on the country's information space by damaging the reputation of a few Russian military bloggers who have not adopted the MoD's preferred narrative on the purported defeat of a Ukrainian force on the east (left) bank of Kherson Oblast on 1 July.
On 1-2 July, the Russian Defence Ministry claimed that Russian troops successfully repelled the Ukrainian landings near the Antonivka Bridge.
At the same time, some Russian bloggers, contrary to reports by the Ministry of Defence, noted that the fighting was still ongoing and that Ukrainian forces were holding certain positions at the Antonivka Bridge as of 2 July.
According to experts, it is likely that the Russian Ministry of Defence is seeking to censor some Kremlin-linked bloggers out of fear that they might expose Russian military failures to Putin during monthly working groups of military bloggers held in the Kremlin. --->READ MORE HERE
Defense Ministry: Ukraine liberates 37.4 square kilometers over past week:
Ukraine has liberated 28.4 square kilometers in the south and 9 square kilometers in the east over the past week, Deputy Defense Minister Hanna Maliar said on July 3.
In the south, the military is continuing successful offensive operations toward Melitopol and Berdiansk in Zaporizhzhia Oblast, specifically in the directions of Novodarivka-Pryiutne, Novodanylivka-Robotyne, and Novosilka-Staromaiorske, Maliar wrote on Telegram.
The area liberated in Ukraine's south now amounts to 158.4 kilometers square total, the deputy minister reported.
Both offensive and defensive operations were reported on the eastern front line. Russian forces continue their advance toward Lyman, Avdiivka, and Mariinka, but the Ukrainian defense in these areas is putting up strong resistance, Maliar said.
Ukrainian troops are pushing forward in the Bakhmut direction, she added.
"Over the past week, as a result of improving the operational (tactical) position and aligning the front line, the liberated area was increased by 9 kilometers square," Maliar commented on the situation on the eastern part of the front. --->READ MORE HERE
Follow links below to
+++++relevant+++++
and related stories:
+++++Russia-Ukraine News LATEST UPDATES: (REUTERS) (AP) (NY POST) and (WSJ)+++++
+++++Ukraine's defence forces destroyed 22 Russian anti-aircraft missile systems and 7 command posts last week – Ukraine's Defence Ministry+++++
+++++"Each shot hit its target": Special Operations Forces snipers target Russian occupation forces near Bakhmut+++++
Defense Ministry reports escalation on Bakhmut front line, advances on southern flank
Ukraine notes progress after 'difficult' week, upsurge in Bakhmut fighting
Francis Farrell: As the world watches the counteroffensive, a sober hold on reality is Ukraine's greatest weapon
NATO readies military plans to defend against bruised but unbowed Russia
Moscow says 700,000 children from Ukraine conflict zones now in Russia
Taiwan Looks to Ukraine Playbook in Race to Build Satellite Internet
In NATO's new north, fresh chances to contain Moscow
Zelensky insists war 'not over' until Ukraine reclaims Crimea
Drone strikes Ukrainian residential building
Von der Leyen urges moves to bring Ukraine, Moldova into EU to avoid Russian, Chinese influence
Ukrainians Fight Back as Russia Seeks to Appropriate Their Country's History
Award-winning Ukrainian writer dies of injuries suffered in Russian missile attack on restaurant
Elections in Russian-controlled Ukraine could be cancelled, official says
Ukraine starts constructing 150-kilometre main water pipeline from scratch
If you like what you see, please "Like" and/or Follow us on FACEBOOK
here,
GETTR
here
, and TWITTER
here
.