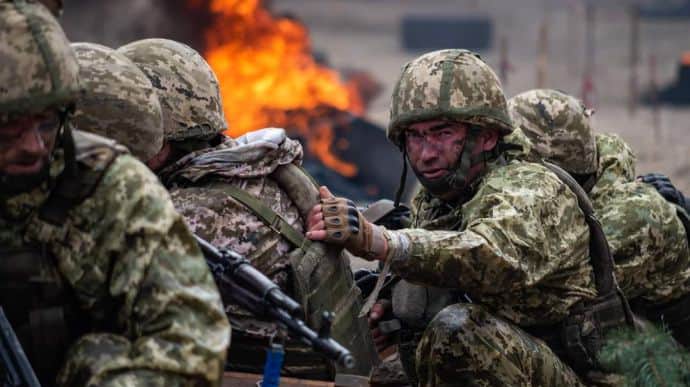 Ukrainian army has initiative on Kupiansk front now – Deputy Defence Minister:
Ukrainian troops have gained the initiative on the Kupiansk front in Kharkiv Oblast.
Source: Deputy Defence Minister Hanna Maliar
Quote: "The enemy's offensive on the Kupiansk front is currently unsuccessful.
The fighting continues, but the initiative is on our side.
On the southern flank around Bakhmut, today, like on all previous days, our troops advanced.
Fighting continued on the northern flank today. The enemy is trying to regain lost positions. Our soldiers have to deal with densely mined territories and intense enemy fire."
Background:
On the morning of 18 July, Oleksandr Syrskyi, Commander of the Ukrainian Ground Forces, said that the situation in the east of Ukraine was difficult but controlled, with the Russians keeping their main forces on the Kupiansk front and moving reserves to the Bakhmut front.
--->READ MORE HERE
Russian sabotage groups attempt to enter Ukraine from north – General Nayev:
Russia has attempted to use sabotage and reconnaissance groups to enter Ukraine's northern Chernihiv and Sumy oblasts, Ukrainian Joint Forces Commander, Lieutenant-General Serhiy Nayev wrote on Telegram on July 18.
The Russians are shelling Ukraine's northern oblasts with multiple rocket launchers, artillery and mortars, as well as launching airstrikes, he said.
The units of the North operational and strategic grouping are fully ready to repel any threats from Russia Nayev emphasized.
Meanwhile, Ukraine's General Staff has foreseen all possible options for the development of events and appropriate measures to strengthen positions in case of a possible escalation in the north.
The number of forces and equipment in the northern direction is sufficient to fulfill the tasks set by the state leadership, the officer stressed.
The Russians most often shell civilians and civil infrastructure facilities, Nayev added.
Earlier, the commander reported that the Armed Forces of Ukraine continue to strengthen defense measures on the border with Russia, creating a "no-go zone." In particular, thousands of trenches and ditches have been dug over the past 10 days.
Ukraine's Ministry of Reintegration announced that residents of the border areas of Sumy Oblast would be evacuated due to Russian constant shelling. --->READ MORE HERE
Follow links below to
+++++relevant+++++
and related stories:
+++++Russia-Ukraine News LATEST UPDATES: (REUTERS) (AP) (NY POST) and (WSJ)+++++
+++++Air Force: Ukraine downs 32 drones, 6 missiles launched by Russia overnight+++++
+++++US says Ukraine has significant combat power not yet committed to the war+++++
UK Defense Ministry: Russia faces worsening counter-battery capabilities
Russian occupation authorities claim two missiles hit TV tower in Tokmak, Zaporizhzhia Oblast
UK Defense Ministry: Ukraine maintains left-bank beachhead at Antonivsky Bridge
57th brigade commander explains why regular Russian troops near Bakhmut are "more convenient" than Wagner forces
US trained about 63,000 Ukrainian troops for offensive – Milley
Defense Minister: Foreign military bases should be allowed to operate in Ukraine
Wagner fighter reportedly executed comrades for refusing parts in mutiny
Benelux to send M113 infantry vehicles to Ukraine
Russia strikes Ukraine grain port after exiting export deal
South African leader says that arresting Putin if he comes to Johannesburg next month would be 'war'
Man arrested in Moscow for trying to firebomb Lenin's mausoleum
Poland transfers forces to eastern border as Wagner convoys enter Belarus
Despite Ukraine War, U.K. Set to Shrink Its Army
Russia carries out air strikes for second night on Ukraine's Odesa port - governor
If you like what you see, please "Like" and/or Follow us on FACEBOOK
here,
GETTR
here
, and TWITTER
here
.