Official: Ukrainian army advances in 2 southern directions:
Deputy Defense Minister Hanna Maliar said on July 2 that Ukrainian forces had advanced in the direction of Berdyansk and Melitopol in Zaporizhzhia Oblast.
According to her, Ukrainian forces are facing "intense enemy resistance, remote mining and redeployment of (Russian) military reserves."
At the same time, Maliar reported that Russians had advanced in several directions in Donetsk Oblast – Lyman, Avdiivka, and Marinka.
In the Svatove direction, Luhansk Oblast, Russian forces have also conducted an offensive.
Maliar called the situation there "quite difficult. She added that Russian troops had attacked two settlements near Svatove - Belohorivka and Serebryanka. --->READ MORE HERE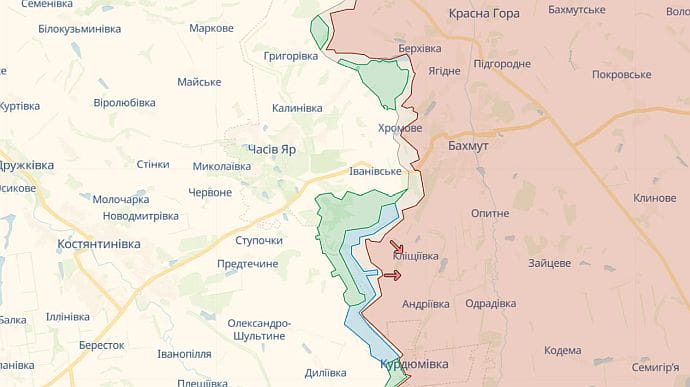 Defence forces advance on Bakhmut's flanks, some units operate in the city:
Defence forces are advancing on the southern and northern flanks around Bakhmut, and Ukrainian sniper groups and "some other units" are operating in the city itself.
Source: Serhii Cherevatyi, spokesperson for the East Grouping of Forces of the Armed Forces of Ukraine, during the national joint 24/7 newscast
Quote: "There are no inside city intensive battles there [in Bakhmut – ed.], our sniper groups and some other units operate there, about which we can say something later. The massive onslaught continues on the southern and northern flanks around the city.
We're advancing there. When we verify it, we will confirm it – we will tell you the details."
Details: According to Cherevatyi, the defence forces seized the initiative on the Bakhmut front.
"If the enemy attacked us for 10 months, now we are pressuring the enemy, but we are pressuring with completely opposite tactics – we are using all the achievements of domestic and world military science, unmanned aerial vehicles, reconnaissance, high-precision systems to destroy the enemy, to break through passages in minefields. And step by step, without emergency actions that can lead to heavy losses, we are advancing. And in principle, we are fulfilling the set tasks of assault on the enemy," he said.
The spokesman also said that last week on the Bakhmut front, the Ukrainian military were taking prisoners almost daily. --->READ MORE HERE
Follow links below to
+++++relevant+++++
and related stories:
+++++Russia-Ukraine News LATEST UPDATES: (REUTERS) (AP) (NY POST) and (WSJ)+++++
+++++Russia launches the first drone strike on Kyiv in 12 days and all are shot down+++++
+++++Nearly 800 Russian soldiers killed and 100 pieces of Russian equipment destroyed on 1 July – General Staff+++++
Ukrainian units advance despite heavy battles on Berdiansk and Melitopol fronts – Deputy Minister of Defence
UK Defense Ministry: Ukraine 'almost certainly' deploying personnel to east bank of Dnipro River
Ukraine's Ministry of Defence confirms destruction of Russian warehouse along with personnel
Ukraine reports taking down all 8 drones, 3 missiles fired overnight
Military reports advances on flanks of Bakhmut
The Guardian: Admission that Wagner is state-funded could help try Putin for war crimes
UK Defense Ministry: Russia cancels air show due to security concerns
Putin's Corporate Takeover of Wagner Has Begun
'It's a lottery': How Ukraine's assault brigade counterattacks near Bakhmut
Pope's envoy after his visit to Moscow: There is no peace plan
Ukraine's Zelensky Says He Will Beat Russia by Holding On to His Humanity
PMC Wagner Group reportedly receives $10 billion from the Kremlin
Russian media watchdog blacklists outlets linked to Wagner mercenary chief
Poland to bolster security on border with Belarus, interior minister says
If you like what you see, please "Like" and/or Follow us on FACEBOOK
here,
GETTR
here
, and TWITTER
here
.