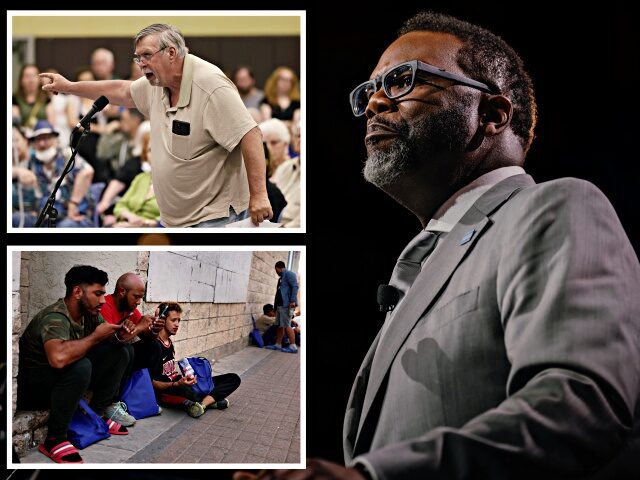 Chicago Mayor Brandon Johnson Ignores Residents' Opposition, Fills College with 300 Border Crossers:
Chicago Mayor Brandon Johnson (D) is seemingly ignoring opposition from residents on the sanctuary city's Northwest Side and has prematurely filled the Wilbur Wright College with more than 300 border crossers and illegal aliens.
Weeks ago, Johnson's office began floating an idea to fill up Wilbur Wright College with hundreds of newly arrived border crossers and illegal aliens — most of whom have no ties to the United States but are taking advantage of President Joe Biden's expansive Catch and Release network at the southern border.
The initial plan suggested that border crossers and illegal aliens would not be placed at the college until early next month and after input from locals.
This week, though, more than 300 border crossers and illegal aliens were placed at the college despite opposition from residents and without warning. During a town hall meeting last week, residents on Chicago's Northwest Side spoke out against the city's plans to turn their neighborhood into a migrant encampment.
"It seems this whole thing was dumped on us," one resident said. "We pay taxes in this district and we should have been told what's going on and why." --->READ MORE HERE
Black residents torch Chicago lawmakers over $51 million funding to house migrants: 'Enough is enough':
Several Black residents in Chicago slammed city leadership this week for allocating more than $50 million to house illegal immigrants in their communities rather than addressing the needs of citizens.
Tensions flared during the Wednesday night Chicago City Council meeting shortly before the council voted 34-13 in favor of setting aside $51 million to house the thousands of migrants sent to the city from the border by Texas Republican Gov. Greg Abbott.
After leading a chant of "Black Lives Matter," a woman named Carolyn Ruff urged the council to vote down the measure because the city hasn't done enough to help the homeless that are already on the streets.
"We need to take care of our community, we need to take care of our Black community," Ruff said in a video posted to the council's Facebook page, explaining that people need mental health help in the city.
"We need to allocate some of this money for our Black children, for the Black community, we have not gotten anything for our community, and we are sick and tired of being sick and tired, enough is enough," she said.
Some of the Black speakers in attendance called on funds to be spent on reparations for slavery rather than housing illegal immigrants.
"How dare this mayor and City Council have the guts to give migrants $51 million dollars," Andre Smith, CEO of Chicago Against Violence, said to the council. "I demand you to have the same passion and urgency to pass the City of Chicago Reparations Ordinance and also give us an office for Black Americans, just like the new Americans." --->READ MORE HERE
If you like what you see, please "Like" and/or Follow us on FACEBOOK
here,
GETTR
here
, and TWITTER
here
.