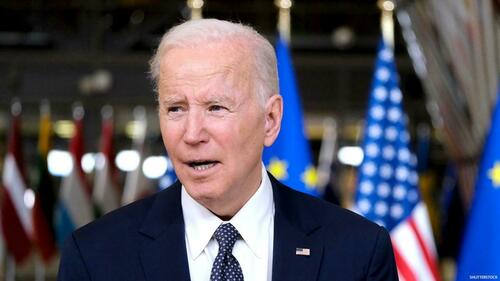 Biden DOJ: Kids have A Constitutional Right To Puberty Blockers:
The Biden Administration has a new and unhinged constitutional theory: the 14th Amendment protects the right of a child to take puberty blockers. Bans on hormone treatments for children with gender dysphoria, such as the prescription of testosterone to a transgender 12 year-old, violate the 14th Amendment's equal protection clause.
That's the Administration's position in LW v. Skrmetti, a lawsuit filed in a Nashville, Tennessee federal court by the families of three transgender children – a fifteen year-old transgender daughter (who thought he was transgender at age 12), a fifteen year-old transgender son, and a twelve year-old transgender son. They're challenging a new Tennessee law that "establishes prohibitions related to the performance on minors of certain medical procedures related to gender identity, creates private causes of action for violations, and establishes additional penalties for violations."
The families of these transgender kids allege that the Tennessee law (1) violates the 14th Amendment's equal protection clause by targeting the transgender; (2) violates the right of parental autonomy guaranteed by the 14th Amendment's due process clause; and (3) that the law is preempted by the Affordable Care Act, which prohibits discrimination "on the basis of sex."
All the children are "currently receiving medical care" that would be prohibited by the recent Tennessee legislation.
What is this medical care? The 15 year-old transgender "girl" – born a male – is currently undergoing estrogen hormone therapy so that his body will "undergo feminine pubertal changes." The 15 year-old transgender "boy" who was born a girl came out as transgender around the 5th grade. She is on testosterone. --->READ MORE HERE
White House calls wave of anti-LGBTQ bills 'awful.' But can Biden do anything to stop it?
A day after the Kansas Legislature overrode Democratic Gov. Laura Kelly's veto to prohibit transgender women from participating in school sports, White House press secretary Karine Jean Pierre walked to the podium in the press briefing room and said it had been one of the worst weeks for anti-LGBT laws in 2023.
That same week, she said, the North Dakota Senate had passed 10 anti-LGBTQ laws in one day. In Idaho, the governor signed a bill banning gender-affirming care for transgender kids, as did the governor of Indiana.
"Look, this is awful news. Let's be very clear about that," said Jean Pierre, the first openly LGBTQ person to hold her role. "LGBTQI+ kids are resilient. They are fierce. They fight back. They're not going anywhere. And we have their back. This administration has their back."
As a wave of anti-LGBTQ laws have moved through Republican-controlled legislatures across the country — most often targeting transgender youth — the White House has frequently used its bully pulpit to offer support for the LGBTQ community.
In March, Biden marked Transgender Awareness Day by issuing a report from the Department of Health and Human Services about the mental health of transgender youth and issued guidance on gender inclusion at federal agencies.
In April, the administration invited actresses from the remake of the trailblazing lesbian focused television show The L Word to the press briefing during Lesbian Visibility Week and Biden put out a statement marking the 70th anniversary of the Lavender Scare — which followed an executive order by Dwight Eisenhower banning LGBTQ people from working in the federal government. --->READ MORE HERE
If you like what you see, please "Like" and/or Follow us on FACEBOOK
here,
GETTR
here
, and TWITTER
here
.