WSJ: U.S., Allies Patch Together Ukraine's Defenses Against Russian Warplanes, Missiles
With missile stocks running low, Kyiv turns to 'MacGyvered' air defenses
The U.S. and allied nations are scrambling to buttress Ukraine's air defenses for its upcoming counteroffensive after waves of Russian missile attacks whittled down Kyiv's stockpile of antiaircraft missiles.
Neither side has been able to take firm control of the skies over Ukraine throughout the brutal war, now in its second year, and the success of Ukraine's forthcoming counteroffensive depends on its ability to keep Russia's warplanes from pummeling its troops and infrastructure.
"Denying Russian aircraft the freedom to operate over Ukraine has been a precondition for every Ukrainian success throughout the entire war," said Ian Williams, the author of a new report on Russia's missile attacks to be issued Friday by the Center for Strategic and International Studies think tank. "That's as true as ever."
Pentagon documents prepared in February and leaked on social media last month warned that Russian warplanes could penetrate Ukraine's airspace as Kyiv this spring ran out of SA-10 and SA-11 surface-to-air missiles, which can engage targets above 20,000 feet.
U.S. officials say they have bought more time by delivering older American-made systems, scrounging up Soviet-era missiles and coaching the Ukrainians on how to fire their missiles more selectively.
The U.S. is working with seven countries, including Sweden and Spain, to provide the U.S.-made I-HAWK air defense system to Ukraine.
The U.S. has also improvised by providing Sea Sparrow antiship missiles for Ukraine's Soviet-era Buk launchers, a contrivance that U.S. officials have dubbed the "FrankenSAM."
Some of the air defenses have been "MacGyvered" with parts from a variety of systems, William LaPlante, the Pentagon's acquisitions chief, told the Council on Foreign Relations Wednesday, referring to the process of improvisation. "That's the word of the year."
The U.S., Norway and Denmark are also sending AMRAAM air-to-air missiles for use in Ukraine's NASAMs air defense launchers, according to the leaked documents.
The Patriot air defense battery that the U.S. has provided to Ukraine is being held back from combat, along with other military equipment, while Kyiv prepares for the counteroffensive, a U.S. official said. --->READ MORE HERE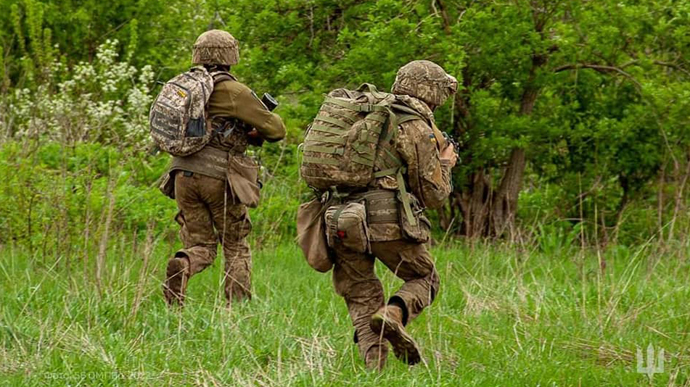 Ukrainian defenders repel over 30 Russian attacks during the day – General Staff:
Russian occupiers concentrate their main efforts on conducting offensive operations on Bakhmut, Avdiivka and Marinka fronts. Over the course of the past 24 hours, the Armed Forces of Ukraine have repelled more than 30 Russian attacks.
Source: General Staff of the Armed Forces of Ukraine, information as of 18:00 on 5 May
Quote: "The enemy continues to focus their main efforts on conducting offensive actions on the Bakhmut, Avdiivka and Marinka fronts.
Units of the Defence Forces of Ukraine repelled more than 30 enemy attacks on these areas of the front. The fiercest battles continue for Bakhmut and Marinka, our soldiers firmly hold the defence."
Details: Over the course of the past 24 hours, Russian forces have launched 2 missiles, 26 air strikes and 20 attacks using multiple-launch rocket systems.
On the Sivershchyna and Slobozhanshchyna fronts, the occupiers maintain the presence of troops in Bryansk, Kursk, and Belgorod oblasts bordering Ukraine.
During the day, occupiers carried out artillery and mortar shelling of settlements in Sumy and Kharkiv oblasts. --->READ MORE HERE
Follow links below to
+++++relevant+++++
and related stories:
+++++Russia-Ukraine News LATEST UPDATES: (REUTERS) (AP) (NY POST) and (WSJ)+++++
+++++Inside a Bakhmut Battle as Ukrainian Forces Defend Critical Route+++++
+++++Get the job done: Finally give Ukrainians the weapons they need to defeat a desperate Russia+++++
In Ukraine's forests, fighters race to prepare for next push
Russia may need 10 years to rebuild military after Ukraine war: US intel
Wagner mercenary boss rages at lack of ammo in grisly video, vows to pull out of Bakhmut
Russia's Wagner threatens to leave Bakhmut, Ukraine says mercenaries reinforcing
NGO: First 3 of 16 crowdfunded air defense radars delivered by Lithuania to Ukraine
Air-Launched Hydra 70 Rockets Approved For 1st Time In $300M Ukraine Package
Germany's Rheinmetall stands ready to produce 600,000 artillery shells for Ukraine
Fired 'Butcher of Mariupol' Russian general joins Wagner mercenaries
Ukraine unveils new tactical reconnaissance drone
Funeral held in Ukraine for American man killed in action
Why Ukraine is unlikely behind attempted Kremlin drone attack: officials
Ukraine brings back bodies of 80 dead defenders
Ukraine delegate punches Russian at Black Sea nations assembly in Ankara
HIMARS systems less effective due to Russian electronic jamming – CNN
If you like what you see, please "Like" and/or Follow us on FACEBOOK
here,
GETTR
here
, and TWITTER
here
.