Military: Ukraine launches counterattacks in Bakhmut, Russian forces 'abandon some positions':
Ukrainian troops have launched counterattacks in parts of Bakhmut in Donetsk Oblast, leading Russian troops to abandon some positions, Colonel General Oleksandr Syrskyi, commander of Ukraine's Ground Forces, reported on May 1.
The situation near Bakhmut remains "quite complicated," according to Syrskyi.
"Intense" fighting continues around Bakhmut, with Russian forces trying to break through Ukrainian defense "in several directions."
In their attempts to do so, new assault groups of Wagner Group mercenaries and other private military contractors, as well as paratroopers, are "constantly rushing into battle" despite "significant losses," Syrskyi said.
Ten Russian soldiers were also captured after Ukrainian forces repelled numerous assaults "over the past few days" near Lyman, he said. --->READ MORE HERE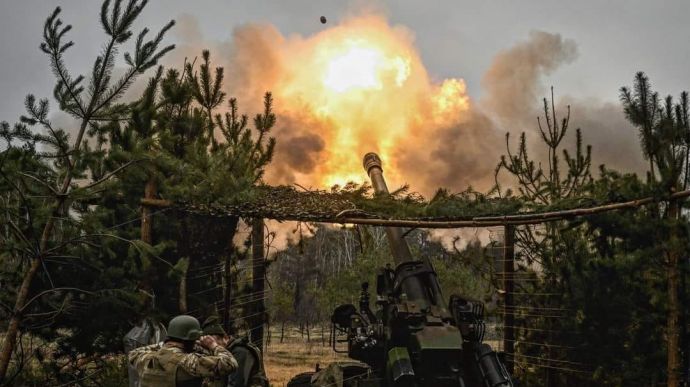 Russian forces unsuccessfully tried to advance on 2 fronts – General Staff report:
On Sunday, the Russians conducted an unsuccessful offensive on the Avdiivka front, and the Russian offensive on the Bakhmut front near Ivanivsk was also unsuccessful. At the same time, battles continued for Bakhmut and Mariinka.
Source: Summary of the General Staff of the Armed Forces of Ukraine
Details: Russia continues to use terror tactics. On Sunday, the invaders launched two rocket attacks on Kramatorsk and Kostiantynivka. Also, during the day, he carried out 15 airstrikes and about 30 attacks from rocket salvo systems on the positions of our troops and populated areas. The probability of launching missile and air strikes on the entire territory of Ukraine remains high.
The invaders continue to focus on conducting offensive actions on the Bakhmut, Avdiivka and Mariinka fronts. During the day, units of the defence forces of Ukraine repelled more than 20 Russian attacks on the specified areas of the front. Bakhmut and Mariinka remain at the epicentre of hostilities; the Ukrainian defenders are firmly on the defensive.
No signs of the formation of offensive groups were found on the Volyn and Polissia fronts. Specific units of the armed forces of the Russian Federation continue to be located on the territory of the Republic of Belarus.
On the Sivershchyna and Slobozhanshchyna fronts, the occupiers continue to maintain a certain number of troops in the border areas of the Russian Federation with Ukraine. During the day, they carried out airstrikes on the settlements of Krasnyi Khutir of Chernihiv Oblast and Seredyna-Buda of Sumy Oblast; private houses were damaged. They also carried out mortar and artillery shelling of Mykolaivka, Halahanivka, and Leonivka settlements of Chernihiv Oblast; Seredyna-Buda, Druzhba, Bachivsk of Sumy Oblast, as well as Chervona Zoria, Veterynarne, Strilecha, Hlyboke, Krasne, Vovchansk, Loshakove in Kharkiv Oblast. --->READ MORE HERE
Follow links below to
+++++relevant+++++
and related stories:
+++++Russia-Ukraine News LATEST UPDATES: (REUTERS) (AP) (NY POST) and (WSJ)+++++
+++++Infrastructure sabotaged in two Russian regions+++++
+++++Massive fire at Crimea oil reserve was opening blast of Ukraine's 'full-scale offensive' on Russia+++++
Air defense downs 15 out of 18 missiles launched by Russia on May 1
Ukrainian defenders oust Russian forces from some positions in Bakhmut - Ukraine general
Ukraine's Arms Industry Survives Russian Onslaught to Hit Back
Russia missile attack on Ukraine injures 34, damages homes
Russia Missiles Seek to Erode Ukraine's Air Defense
UK Defense Ministry: Russian defensive works suggest 'deep concern' over major Ukrainian breakthrough
Air National Guard Plays Outsize Role in Air Force Drone Strikes, Military Data Show
US Air Force Moves Strategic Air Tankers From Germeny To Poland
Pope says he is working on secret Ukraine peace 'mission'
Kirby Claims Whopping 100,000+ Russian Casualties In Bakhmut Alone
Marine vet Cooper 'Harris' Andrews volunteering in Ukraine killed evacuating civilians in Bakhmut
Putin could face arrest in South Africa if he attends economic summit
If you like what you see, please "Like" and/or Follow us on FACEBOOK
here,
GETTR
here
, and TWITTER
here
.