Joe Biden's denial of Hunter's love child exposes moral weakness:
A 4-year-old shows us the real president
A real-life "Game of Thrones" is taking place in the Biden family, and it is exposing the seedy underbelly of America's first family like never before.
It is gut-wrenching to watch, in the middle of it all, a little girl who through no fault of her own is now such a threat to the Biden family that she's been callously discarded by the president of the United States.
This is not a commentary on the merits of Lunden Roberts' claims for more child support. It would seem that $20,000 per month for one child in Arkansas is more than adequate to provide for a 4-year-old. This is about the moral question, how it reflects on a president fond of quoting Scripture and the lengths the Bidens will go to cover up how they made their fortunes.
Our presidents are not saints. We are generally OK with that because we often see ourselves in them, even among their flaws. What we expect, however, is that they will set an example for the nation by attempting to rise above their shortcomings to be an exemplar of courage and leadership.
The brutal and callous denial of Navy Joan Roberts has laid bare President Biden's moral, spiritual and ethical weakness to such a degree it compromises his ability to lead. If the president can do this to a child and his own flesh and blood, what else would he be willing to do to protect himself and advance his party?
Weak men make weak fathers who make weak families and weak children. Weak families make a weak nation. If a man can't be trusted to lead his family in a way that reinforces moral straightness, he can't be trusted to lead anyone.
For Mr. Biden, hiding financial information is clearly more important than his discarded granddaughter. --->READ MORE HERE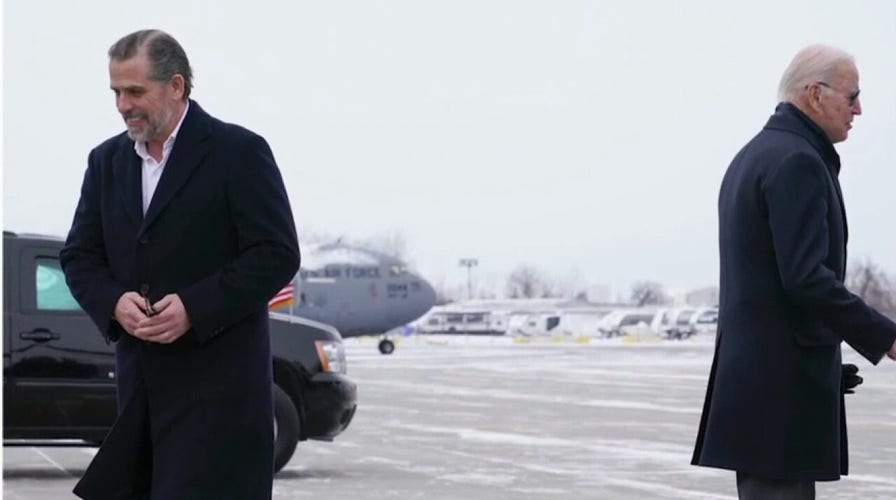 White House dodges question on Biden refusing to acknowledge his 'seventh grandchild':
President Joe Biden and the White House continue to ignore questions about the Delaware Democrat's grandchild as son Hunter Biden appeared in an Arkansas court this week to face a paternity case involving his 4-year-old daughter.
On Tuesday, White House press secretary Karine Jean-Pierre rebuffed a reporter's question about Biden's seventh grandchild, Navy Joan Roberts.
A reporter from the Daily Mail asked about Hunter's paternity case in Independence County, Arkansas, questioning whether the president and first lady Jill Biden are "monitoring" the case, and followed up by asking why neither Biden has yet acknowledged Navy.
"I'm not going to speak to that from here," Jean-Pierre said before quickly moving on as a "Why not?" could be heard from the press corps.
Navy's mother, Lunden Alexis Roberts, 31, met the now-52-year-old while working as a stripper at a District of Columbia gentlemen's club while Hunter was dating Hallie Biden – the widow of his late brother, Joseph R. "Beau" Biden III – according to the New York Post.
Roberts also reportedly wants Navy to be able to use the Biden surname. Hunter Biden continues to litigiously fight the name change as well.
On Fox News' "America Reports," Ari Fleischer – who served as press secretary for President George W. Bush – was astounded at the White House's continued refusal to address Biden's seventh grandchild or Hunter's paternity suit. --->READ MORE HERE
If you like what you see, please "Like" and/or Follow us on FACEBOOK
here,
GETTR
here
, and TWITTER
here
.