Drone Attacks Target Russian Supply Lines Ahead of Ukraine's Expected Offensive:
Strikes focus on cutting supply routes to Russian forces in southern Ukraine, analysts say
A second day of drone attacks inside Russia targeted military logistics hubs in an apparent effort to disrupt Moscow's battlefield supply lines ahead of an expected Ukrainian counteroffensive.
The attacks, which Ukraine hasn't commented on, are the latest in a string of apparent drone strikes and acts of sabotage on Russian territory. Military analysts say the attacks are focused on cutting off Russia's supply route to its forces in southern Ukraine as Kyiv prepares the ground for its expected attempt to recapture parts of the area.
The U.K.'s Defense Ministry on Thursday said the drone attacks targeting Russia's fuel storage and distribution network would likely force Moscow to adjust its refueling operations by shoring up its defenses or using infrastructure further from vulnerable areas near the border with Ukraine.
Such a move by Moscow could aid Ukraine as it gears up for a fresh push to dislodge Russian forces. Ukrainian President Volodymyr Zelensky said Thursday that the whole country was working to assure the success of the offensive.
Kyiv has sought to weaken Russia's defenses and its ability to reinforce units on the front lines, a strategy that has proved successful in the past. Last fall, Ukraine conducted strikes deep into Russian-held territory using U.S.-provided Himars multiple-rocket launchers, which destroyed Russian ammunition depots and key supply lines into Kherson before Ukraine retook the city in November, following a Russian withdrawal.
Russia scrambled on Thursday to contain the damage from the latest strikes. Firefighters worked overnight to combat blazes at oil facilities in Russia's southern Krasnodar region, near Crimea, and in the Rostov area close to the border with Ukraine. Russian state media and local authorities said both fires were caused by drones. --->READ MORE HERE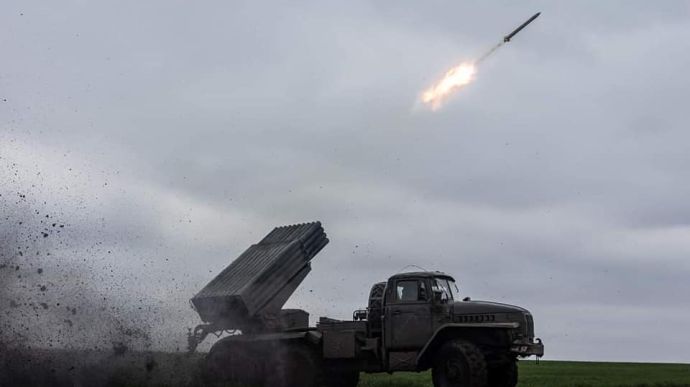 Russian forces suffer significant losses but continue attempts to advance and improve positions – General Staff report:
Russia carried out another hybrid attack on a number of Ukrainian oblasts on the 435th day of the war. Meanwhile, Russian forces also attempted to advance towards Bohdanivka and Markove on the Bakhmut front and to improve their tactical positions on the Marinka front.
Source: General Staff of the Armed Forces of Ukraine on Facebook, information as of 18:00 on 4 May
Quote from the General Staff: "Last night, the Russian Federation deployed Iranian-made Shahed-136/131 attack drones to carry out another large-scale attack across the territory of Ukraine; our defence forces destroyed 18 out of 24 drones.
Today the enemy also carried out six missile strikes on the cities of Kramatorsk and Zaporizhzhia, 66 airstrikes, and deployed multiple-launch rocket systems (MLRS) to conduct 33 further attacks on the positions of Ukrainian forces and on civilian settlements.
Sadly, there are civilian casualties, and a number of private residential houses, educational establishments, and other civilian infrastructure facilities sustained damage."
Details: Meanwhile, Ukrainian aircraft carried out six airstrikes on areas where Russian military personnel were concentrated.
Four Russian Lancet loitering munitions were also destroyed over the course of the day.
Units of Ukraine's Rocket Forces and Artillery struck five areas where Russian military personnel were concentrated, two ammunition storage points, and one electronic warfare system.
The Russian army continues to focus its main efforts on conducting offensive operations on the Lyman, Bakhmut and Marinka fronts, where Ukrainian forces repelled around 50 Russian assaults. Fighting is particularly fierce in the cities of Bakhmut and Marinka. --->READ MORE HERE
Follow links below to
+++++relevant+++++
and related stories:
+++++Russia-Ukraine News LATEST UPDATES: (REUTERS) (AP) (NY POST) and (WSJ)+++++
+++++Fuel depot ablaze near key Crimea bridge in Russia+++++
+++++Blast causes another freight train to derail in Russia region near Ukraine+++++
Russia likely staged attack on Kremlin – ISW
Ukraine downs 18 drones on May 4
'Drone attack' appears to be one of Putin's false flags for propaganda and power
Trained in the heat of battle: The journey of Kharkiv Oblast's Territorial Defense
Ukraine hopes to protect Kyiv with Israeli alert system by summer
Russia Accuses U.S. of Helping Kyiv to Plan Kremlin Attack
US military aid for Ukraine includes air-launched rockets
Poland Is the Indispensable NATO Ally
Zelensky on Ukraine counteroffensive: 'We don't think about failure'
Russian Vessels Photographed at Nord Stream Site Days Before Blast
Ukraine understands it will not join NATO during war, but wants clear signals, Zelenskyy says
Russia blames US for supposed drone strike on Putin, without evidence
Zelenskyy wants Putin trial; Russia accuses US on drones
Ukraine's Zelensky visits International Criminal Court
If you like what you see, please "Like" and/or Follow us on FACEBOOK
here,
GETTR
here
, and TWITTER
here
.