Kyiv Security Forum experts analyze this week's key frontline events:
A serious shift in aerial warfare in the area has been noted due to the appearance of guided bombs on the battlefield, while deep inside Russia, the situation is increasingly out of the Kremlin's control.
The Russian offensive near Bakhmut and Avdiyivka in Donbas has nearly ended. This is recognized both in Moscow and abroad. Ukraine is losing small sections of the front, but capturing others nearby, which is typical for this type of defense.
The key aspect of the Battle of Bakhmut is military-political (in other words, "strategic communications"). Both sides face an intense debate about correct tactics.
In Russia, talks are centered on whether their offensive will ultimately fail, despite the huge human losses, and whether they will withstand the Ukrainian counteroffensive. Feuding with the Russian Defense Ministry, Wagner PMC leader, Yevgeny Prigozhin, is publicly threatening Russians with the loss of Donbas and Crimea. The network of FSB agent Girkin-Strelkov is also stepping up its alarmist rhetoric. In spite of the censorship on Russian TV, these factors are discrediting Russia's continued mobilization.
Ukraine has demonstrated qualitative changes in the defense of Donbas, primarily with the increased use of armored vehicles. There is still an ongoing debate about whether it is worth continuing to hold Bakhmut. Ukrainian President Volodymyr Zelenskyy was forced to clarify that political considerations are important in the decision-making process of the Commander-in-Chief when it comes to the small Donbas city. --->READ MORE HERE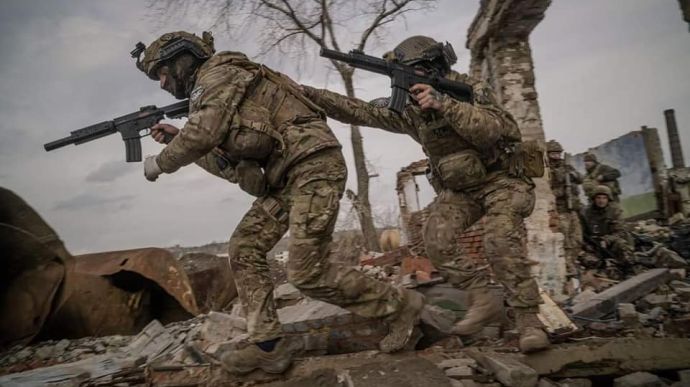 Russians try to capture Bakhmut, intense battles underway in Marinka – General Staff report
As of Saturday, 8 April, Russian troops continued their offensive on the Lyman, Bakhmut, Avdiivka and Mariinka fronts; in particular, they are trying to take the city of Bakhmut under full control.
Source: General Staff of the Armed Forces of Ukraine on Facebook, information as of 18:00 on 8 April
Details: During the day, the Russian forces launched 2 missile and 34 air strikes, carrying out more than 36 attacks from multiple-launch missile systems. The probability of missile and air strikes remains high throughout the territory of Ukraine.
The occupiers continue to focus their main efforts on conducting offensive actions on the Lyman, Bakhmut, Avdiivka and Mariinka fronts; more than 35 attacks were repelled.
On the Volyn, Polissia, Sivershchyna and Slobozhanshchyna fronts, the operational situation has not changed significantly, and no signs of formation of offensive groups of the Russian forces have been detected. During the day, they shelled the settlements of Hremiach in Chernihiv Oblast, Seredyna-Buda, Baranivka, Bezsalivka, Volfyne, Turia, Vysoke in Sumy Oblast, as well as Veterynarne, Vilkhivka, Ternova, Vovchansk, Karaichne and Chuhunivka in Kharkiv Oblast.
Kolodiazne, Krasne Pershe, Novomlynsk, Dvorichna, Zapadne, Krokhmalne, Kindrashivka, Pishchane and Berestove in Kharkiv Oblast were struck on the Kupiansk front.
On the Lyman front, during the day, the occupiers conducted unsuccessful offensive actions in the area south of Kuzmyne and Verkhnokamianske. Cherneshchyna in Kharkiv Oblast, Makiivka, Nevske, Dibrova, Bilohorivka and Luhansk Oblast, as well as Yampolivka, Torske, Siversk, Spirne in Donetsk Oblast were hit by artillery fire. --->READ MORE HERE
Follow links below to
+++++relevant+++++
and related stories:
+++++Russia-Ukraine News LATEST UPDATES: (REUTERS) (AP) (NY POST) and (WSJ)+++++
+++++General Staff: Ukraine downs Russian aircraft, 7 drones over past day+++++
+++++Ukraine's military destroys 3 Russian observation posts in south+++++
Explosions heard in occupied Crimea's Feodosia
Ukraine's Security Service "cleans up garbage" in Bakhmut before Easter
ISW: Alleged leak of classified war documents highlights Russians' fear of upcoming Ukrainian counteroffensive
Ukraine war: The latest news
Pentagon probing leaked docs purporting to preview Ukraine offensive
Russian military digs mega-trench over 70 kilometers long in Zaporizhzhya Oblast – satellite imagery
US national security documents with Ukraine, China secrets turn up in 'nightmare' leak
Russian propaganda channel RT Frances goes bankrupt
Ukraine war latest: Kyiv dismisses classified war papers leaked online as 'fake'
Russia fails in "winter war" against Ukrainian power system – UK Intelligence
Biden Administration Weighs Action Against Russian Cybersecurity Firm
Ukraine seeks to prevent military leaks after NATO assistance plans reportedly appear on social media
Ukraine Resumes Electricity Exports, as Russian Strikes on Grid Lose Efficacy
If you like what you see, please "Like" and/or Follow us on FACEBOOK
here,
GETTR
here
, and TWITTER
here
.