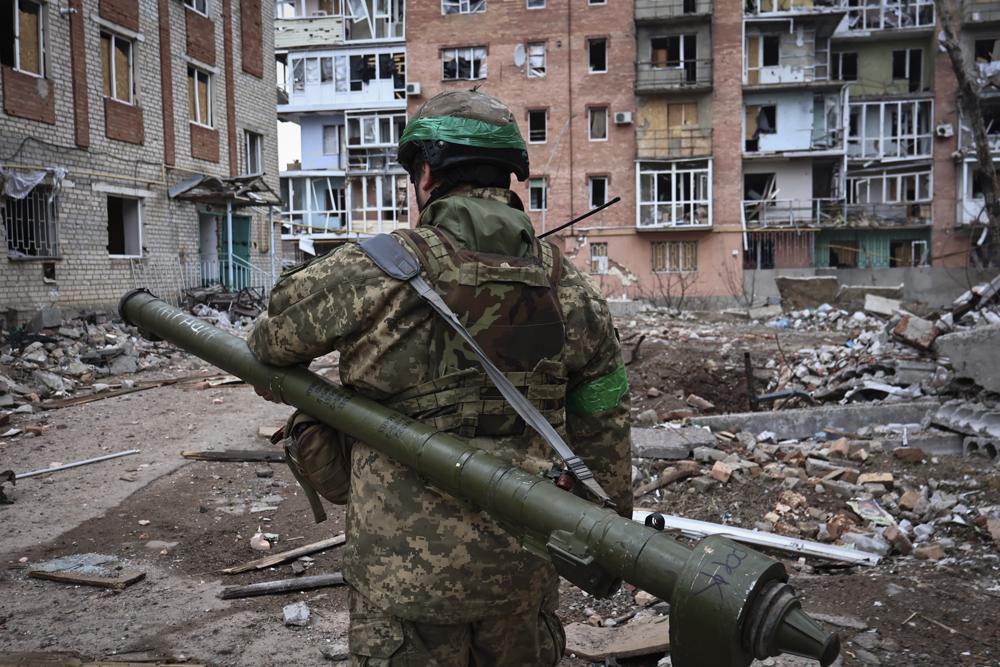 Ukraine vows to hold on to Bakhmut despite Russian onslaught:
Ukrainian troops on Wednesday defended positions in Bakhmut in eastern Ukraine amid a relentless push by Russian forces to capture a city that has been turned into a wasteland by seven months of fighting.
Both sides claimed successes in what has become the longest-running battle since Russia launched its full-scale invasion of Ukraine more than a year ago.
Ukrainian officials said that Ukrainian Ground Forces shot down a Russian fighter jet near Bakhmut and made gains in northern parts of the city.
Meanwhile, Yevgeny Prigozhin, the founder of the mercenary Wagner Group, which has spearheaded the Russian assault on the city, said in a social media post Wednesday that Russian forces have taken control of the settlement of Zaliznyanskoye and are expanding the encirclement of Bakhmut.
The claims couldn't be verified.
The battle for Bakhmut intensified after Russian forces captured the nearby town of Soledar in January. Russian forces must go through Bakhmut to push deeper into parts of the Donetsk province they don't yet control, though Western officials say that the capture of the city would have limited impact on the course of the war.
An assessment by the U.K. Defense Ministry over the weekend said that paramilitary units from the Wagner Group had seized eastern parts of Bakhmut, with a river flowing through the city marking the front line of the fighting.--->READ MORE HERE
Mortars, artillery and small arms fire as battle for Bakhmut rages:
From a mortar position behind a ridge beyond which frontline Ukrainian and Russian troops face off outside the hotly contested city of Bakhmut, a crew adjusted its weapons before firing off seven rounds.
The impact of each could be heard in the distance seconds later, while the constant boom of outgoing and incoming artillery fire filled the air on Thursday in attritional warfare that has marked the last several months in the area.
The crackle of small arms fire was also clearly audible some 1.5-2.0 km from the frontlines, not far from a road that leads from Bakhmut west into the next town Chasiv Yar - a vital exit route for Ukrainian forces who are in danger of being encircled.
"The situation (at the front) is quite difficult, but stable," said Myron, a soldier in the 80th Air Assault Brigade who declined to give his full name.
"The enemy constantly attempts to attack us, and we defend our positions quite effectively," the 37-year-old told Reuters in an underground bunker at the end of a zig-zag trench where the mortar unit sleeps, eats and stays warm.
"We've been standing here for quite a long time already, and our brigade hasn't given up any positions."
Since a major Ukrainian counter-offensive last year, the war has settled into a grinding conflict of incremental gains along a frontline stretching from the Russian border in the north to the annexed Crimean peninsula in the south. --->READ MORE HERE
Follow links below to
+++++relevant+++++
and related stories:
+++++Russia-Ukraine News LATEST UPDATES: (REUTERS) (AP) (NY POST) and (WSJ)+++++
+++++Poland to transfer MiG jets to Ukraine, becoming first NATO member to supply warplanes+++++
+++++General Staff: Ukraine repels 75 Russian attacks in past 24 hours+++++
Ukraine's Armed Forces of Ukraine strike three Russian command posts and radar stations – General Staff
Sweden to send 8 Archer artillery systems to Ukraine
No signs Ukraine is withdrawing troops from Bakhmut - Russian-installed official
French Defence Minister announces arrival of first AMX-10 RC wheeled tanks in Ukraine
Ukraine Needs Armored Vehicles. This Ukrainian Charity Bought Dozens
Spain pledges 4 additional Leopard 2 tanks to Ukraine
Which missiles Ukraine can and can't shoot down
Shocking video shows Russian kids going through military training in Crimea
ISW: Wagner Group offensive on Bakhmut appears to be nearing culmination
US releases video of Russian jet colliding with drone
Poland breaks up Russian spy network, says minister
Putin's Wagner mercenary army recruiting fighters for Ukraine war on Pornhub
Huge fire in Rostov-on-Don: FSB building burning, explosions heard
U.N. Sees Wide Range of War Crimes by Russian Forces in Ukraine
Media: Estonia to transfer more weapons, special equipment to Ukraine
Chinese companies sold rifles and body armour to Russia during war in Ukraine
If you like what you see, please "Like" and/or Follow us on FACEBOOK
here,
GETTR
here
, and TWITTER
here
.