Ukraine Offensive Takes Shape, With Big Unknowns:
Weapons and training from NATO allies will be pivotal, while targeting will seek Russian weak spots
After months of new weapons deliveries from the West, Ukraine is poised to punch back at Russia's invasion forces in coming weeks—a high-risk campaign that will set the course of subsequent battles and potential peace negotiations.
Ukraine's operational plans remain confidential, but some aspects of what is to come are discernible from a look at the equipment each side has—or doesn't have—and their recent performance on the battlefield. Both are struggling to make gains and have been burning through munitions at rates not seen since the two world wars.
For Ukraine to succeed against Russia's deeper resources and entrenched defenses it will need a combination of skill and luck, finding and quickly exploiting weak points, say strategists. While Kyiv's forces are more motivated and, in some cases, better armed than Moscow's troops, Russia has had months to prepare for a Ukrainian attack and shown greater willingness to expend lives and materiel.
"This is going to be very, very difficult," said Polish Prime Minister Mateusz Morawiecki in an interview. "The big potential and brutal force of the Russians cannot be underestimated."
Ukrainian forces have been training for months in Western Europe and the U.S. to use modern equipment and to operate on a battlefield in large formations. Kyiv's prospects will depend on its ability to coordinate different types of troops, including artillery units, tank corps and foot soldiers, in what are known as combined-arms maneuvers.
Despite the training and the influx of North Atlantic Treaty Organization equipment, Ukraine won't be able to launch a NATO-style assault, because neither side controls Ukraine's skies. To dislodge an entrenched enemy, as Ukraine wants to do, the textbook approach for the U.S. and its allies would begin with a massive air assault using aircraft and cruise missiles. That is how the U.S. launched both wars in Iraq.
"We would attack from the air and establish air superiority," said John Nagl, a retired U.S. Army lieutenant colonel who is now an associate professor of warfighting studies at the U.S. Army War College. In Ukraine, he says, neither side has a real air-power advantage. --->READ MORE HERE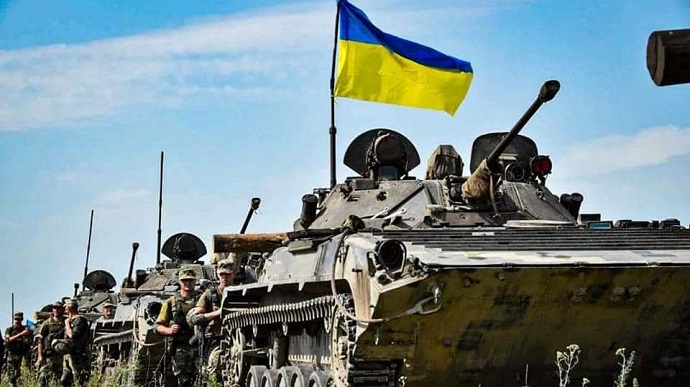 Russia gives up on further offensive and focuses on deterring defence forces:
According to Bloomberg, the Kremlin has abandoned plans for a further offensive in Ukraine this spring, so Russians will focus on deterring a Ukrainian counteroffensive.
Source: Bloomberg
Details: The publication notes that Russia made this decision after failing to gain significant ground. Thus, Russia's military command decided to focus on deterring the counteroffensive of the Armed Forces, which is expected to begin soon.
Bloomberg, citing its sources, writes that in preparation for a long struggle, the Kremlin aims to recruit up to 400,000 contract servicemen this year to replenish its ranks.
According to these sources, the ambitious recruiting campaign would allow the Kremlin to avoid another forced mobilisation of reservists as it ramps up the campaign to re-elect President Vladimir Putin later this year, the people said.
Last autumn's call-up shook public confidence and triggered an exodus of as many as a million Russians from the country.
Even with the battlefield and political challenges, Putin has signaled he's confident Russia will be able to outlast Ukraine's supporters in the US and Europe, betting that if his forces are able to prevent another breakthrough by Ukrainian troops in the coming months, the backup for Kyiv will weaken. --->READ MORE HERE
Follow links below to
+++++relevant+++++
and related stories:
+++++Russia-Ukraine News LATEST UPDATES: (REUTERS) (AP) (NY POST) and (WSJ)+++++
++++Defence forces repel more than 50 attacks on four fronts – General Staff report++++++
+++++Why Republicans must support Ukraine as Biden claims moral victory+++++
Ukrainian border guards eliminate Wagner Group assault unit in Bakhmut
Military spokesperson: Ukrainian forces 'stabilize situation' in Bakhmut area, number of Russian assaults drops
Ukraine says Bakhmut situation is stabilising, Putin plays down tank shortage
Ukraine using Soviet-era choppers to pummel Russia from afar
Ukraine says Bakhmut situation is stabilising, Putin plays down tank shortage
North Macedonia to transfer 12 combat helicopters to Ukraine
Explosion rings out in Russia's Tula Oblast, people injured
How to counter Iran transferring ballistic missiles to Russia – Zaluzhnyi's US adviser
Wounded Ukrainian soldiers pour into makeshift hospital near Bakhmut
Putin wanted 'total cleansing' of Ukraine with 'house-to-house terror,' leaked spy docs reveal
Ukraine Calls for U.N. Security Council Meeting Over Belarus Nuclear Threat
New Russian campaign tries to entice men to fight in Ukraine
Russia's war on Ukraine latest: NATO criticises Putin for 'dangerous and irresponsible' nuclear rhetoric
Russia starts receiving regular supplies of Shahed kamikaze drones – UK Intelligence
If you like what you see, please "Like" and/or Follow us on FACEBOOK
here,
GETTR
here
, and TWITTER
here
.