WSJ: Ukraine Commits More Resources to Bakhmut Defense as Russia Advances:
Russian forces were pushing Friday to expand their control of territory to the north and south of Bakhmut in eastern Ukraine after Kyiv said it was committed to the defense of the city.
Ukraine's military said it had fought off numerous Russian assaults on villages around Bakhmut. Russian advances on the northern and southern flanks of Bakhmut are threatening Ukrainian supply lines into the city, Russia's main target in recent months.
"Enemy assaults on Bakhmut are nonstop," Ukraine's military said in a statement Friday.
The battle for Bakhmut has taken on greater strategic significance in recent weeks as Ukraine has committed more units to its defense. Some Western analysts have queried why Ukraine continues to hold a city where its forces are increasingly at risk of being cut off and are taking heavy losses.
Ukrainian commanders had said Bakhmut wasn't consequential for broader defensive operations. But Ukraine's leadership said this week it would continue the defense of the city to grind down Russian forces and buy time ahead of a planned Ukrainian offensive.
After a meeting of top defense officials on Monday, Ukrainian President Volodymyr Zelensky's office released a statement saying that his two top army generals were in favor of continuing the defense and reinforcing units there.
Col. Gen. Oleksandr Syrskiy, commander of Ukraine's ground forces, said Thursday that holding Bakhmut was buying Ukraine time to prepare reserves and prepare for offensive operations.--->READ MORE HERE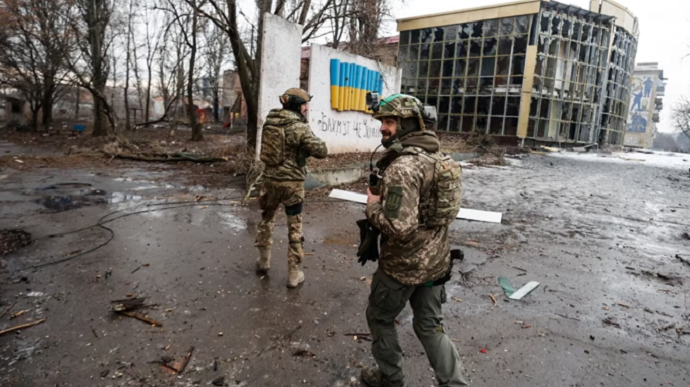 Ukrainian Armed Forces repel Russian attacks on Bakmut and Ivankivske – General Staff report
Over the past day, the Armed Forces of Ukraine repelled the attacks of the occupiers on the city of Bakhmut and the village of Ivankivske nearby; the hospitals in occupied Berdiansk are full of wounded Russians.
Source: General Staff of the Armed Forces of Ukraine on Facebook, information as of 18:00 on 10 March
Details: During the day, the Air Force of the Defence Forces of Ukraine carried out five strikes on clusters of Russian personnel and equipment, as well as one strike on the position of occupiers' anti-aircraft missile systems. Units of Rocket Forces and Artillery hit three clusters of Russian manpower.
Throughout the day, the Russian aggressors carried out 23 air strikes and 4 missile strikes on the cities of Kostiantynivka and Sloviansk in Donetsk Oblast. Civilians have been injured and civilian infrastructure and residential buildings damaged. In addition, the occupiers fired 23 times from multiple-launch rocket systems.
The Russians do not cease their attempts to enter the administrative border of Donetsk and Luhansk oblasts. The main efforts are focused on conducting offensive operations on the Lyman, Bakhmut, Avdiivka, Marinka, and Shakhtarsk fronts.
On the Volyn, Polissia, Sivershchyna and Slobozhanshchyna fronts, the situation has not changed significantly. During the day, the Russians carried out mortar and artillery shelling of Yeline in Chernihiv Oblast, Znob-Novhorodske, Seredyna-Buda and Atynske in Sumy Oblast and Ambarne, Kamianka, Novomlynsk, Dvorichna and Zapadne in Kharkiv Oblast. --->READ MORE HERE
Follow links below to
+++++relevant+++++
and related stories:
+++++Russia-Ukraine News LATEST UPDATES: (REUTERS) (AP) (NY POST) and (WSJ)+++++
++++++Ukraine says Bakhmut battle is grinding down Russia's best units++++
+++++General Staff: Ukraine repels more than 100 Russian attacks over past 24 hours+++++
ISW: Russia unlikely to make significant gains launching new counteroffensive in Vuhledar
Remnants of Russian platoon refuse to fight after 'bulls–t' mobilization to Donbas
Wagner Group boss moans he's been 'cut off' by Putin for demanding ammo
Ukraine rebounds from Russian barrage, restores power supply
Norway announces delivery of more NASAMS air defense systems to Ukraine
Voice of daughter saved wounded Fox News reporter Benjamin Hall in Ukraine
Watch: U.K., France Pledge Cooperation on Ukraine and Migration
Sunak: UK, France to jointly train Ukrainian marines
How Russia Supplies Its War Machine
Russian shelling kills Kherson residents, Zelenskiy denounces 'terrorist attacks'
GOP Lawmakers Ask for Details About U.S. Financial Aid to Ukraine
Zelenskyy: Ukraine in talks with Norway over training Ukrainian pilots
US says intelligence shows Russia stirring unrest in Moldova
If you like what you see, please "Like" and/or Follow us on FACEBOOK
here,
GETTR
here
, and TWITTER
here
.